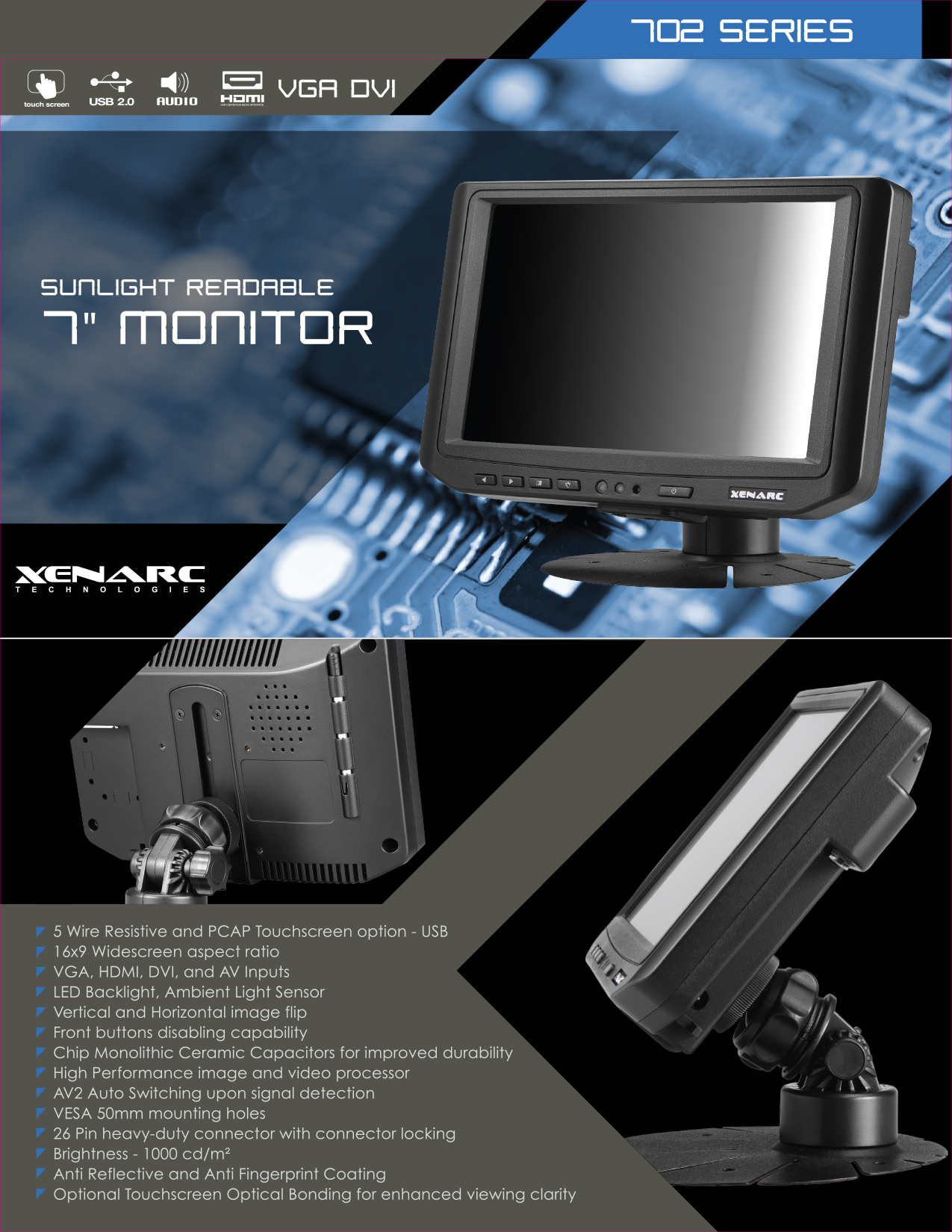 702GSH - Optically Bonded 7" High Bright Small Touchscreen Monitor with HDMI
Xenarc Technologies proudly announces the newest member of the small monitor and small touchscreen 7" size 700 series line up, the 702GSH. Working in conjunction with clients who use our small 7" monitor touchscreen displays in outdoor, direct sunlight environments, the 702GSH utilizes optical bonding to produce a 7" small monitor touchscreen that performs perfectly in such applications.

Optical bonding is the process by which the air gap between the touch panel and the display panel is eliminated via the use of adhesive. This increases the luminance and the contrast ratio of the small monitor display, thereby reducing the amount of reflected ambient light. Optical bonding also has the following benefits:
Increased clarity and viewability - Optical bonding eliminates the internal reflection between the display panel and the touch panel by creating a single index refraction. Reducing internally reflected light loss increases display contrast and viewability.
Increased ruggedness
Moisture and dust resistance - The process of optical bonding fills the gap between the touchscreen glass and the display panel, which prevents condensation or dust from affecting the displays clarity.
Higher shock and vibration resistance - Optical bonding is an effective means of improving shake and shock resistance, which is particularly helpful in military, industrial, and transportation applications.
What applications can benefit from optical bonding in small monitor and small touchscreen solutions? Any small touchscreen monitor display in an outdoor environment, or an industrial application with vibration and environmental elements, or high ambient light conditions; these can all be improved with optical bonding. From in-vehicle automotive small touchscreen monitor displays to digital signage, marine to in-flight, industrial and medical, optical bonding increases the usability of a small monitor display in all of these applications.

Please contact your Xenarc Technologies sales representative for further information on this exciting new small monitor model. The 702GSH will be available for sale in late May 2017.
2017 Product Pricing
Xenarc Technologies has also just released its new pricing of our new small monitor and small touchscreen solutions for 2017. With new products coming in, and price drops across the board, please contact your Xenarc Technologies' sales representative for a current pricelist, or email us at sales@xenarc.com.