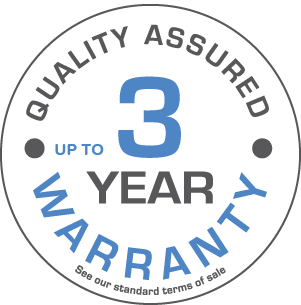 Xenarc Technologies provides a 3-year limited warranty on its Touchscreen and Monitor products, and a 2-year limited warranty on its Panel PC, Mini PC, Car PC, and Rugged Tablet PC Products. Products can be serviced and/or repaired for a fee after the warranty period.
Xenarc Technologies products are built to last. But in the event that defective item(s) needs to be returned for service or exchange, please submit an RMA request HERE.
Following is Xenarc's Limited Warranty Terms and Conditions:
1. Except as set forth below, the product is warranted for a period of 36 months (Touchscreen and Monitor) or 24 months (Panel PC / Mini PC / Car PC / Tablet PC) from the date of purchase from Xenarc Technologies Corp (referred to herein as "Xenarc") or its Authorized Distributors or Dealers. Subject to the conditions of this warranty, Xenarc or its Authorized Service Center will perform necessary service on the product without charge for parts or labor if, in the opinion of Xenarc or its Authorized Service Centre, the product is found to be faulty within the warranty period. Xenarc's sole warranty and obligation will be to repair or replace (at it sole discretion) such products that require warranty during the applicable warranty period in accordance with these conditions. If the product is found to be in correct working order, then Xenarc and its Authorized Service Center reserve the right to charge you for its time and materials costs.
2. This warranty only applies to products sold by Xenarc or its Authorized Distributors or Dealers. Warranty coverage only applies to service carried out by a Xenarc Authorized Service Center and only if valid proof of purchase is presented when warranty service is requested. In addition, Xenarc provides a 30 day (from sale date to customer) "zero dead pixel" replacement policy, if any pixel is within a 100 millimetre radius from the centre of the screen. Outside the 30 day period, Xenarc offers a 3x3x5 dead pixel warranty.
3. This warranty only applies if the product has been installed and used in accordance with the manufacturer's recommendations (as noted in the operating manual) under normal use and reasonable care (in the opinion of Xenarc). The warranty covers normal usage for which the unit was originally supplied and does not cover damage, malfunction or failure resulting from use of incorrect voltages, unauthorized installation, accident, misuse, neglect, build-up of dirt or dust, abuse, maladjustment of customer controls, mains supply problems, thunderstorm activity, infestation by insects or vermin, tampering or repair by unauthorized persons (including unauthorized alterations), unauthorized maintenance, exposure to abnormally corrosive conditions or any foreign object or matter having entered the product. (Internal liquid damage of IP rated Products is thus not covered by this warranty.)
4. IP rating of our products are Lab Certified based on controlled test conditions but we could not control how products are used in the field. While we have many customers with years of satisfied use, water resistance is not permanent condition and resistance might decrease as a result of normal wear. Warranty exclusion of internal liquid damage of IP rated Products is in accordance with industry wide warranty policy. Please contact us and speak with a product expert if you have quesiton or concern whether a product is suitable for your application.
5. If warranty service is required you should:
Submit a RMA Request HERE
Provide a copy of your purchase receipt as proof of date of purchase. If no proof is available then the date of manufacture on the label at the rear of the product will be used to determine the warranty period.
6. The warranties hereby conferred do not extend to any damage or loss occurring during, or associated with, transit.
Please arrange for transportation to your assigned Authorized Service Center. Carefully pack the product, preferably in the original carton, and have it shipped to the Authorized Service Center. Xenarc or its Authorized Service Center will at its discretion repair or replace the product and ship back the repaired product or replacement in a timely fashion. Unless otherwise specified to the consumer by Xenarc, the warranty set forth in this warranty statement, is the sole warranty provided by Xenarc during the warranty period.
THIS WARRANTY STATEMENT AND THE PURCHASE DOCKET (OR SIMILAR PROOF OF PURCHASE) SHOULD BE RETAINED BY THE CUSTOMER AT ALL TIMES
If you require assistance regarding warranty conditions or any other product inquiries, please contact us through e-mail at support@xenarc.com or by phone at 1-888-656-6536 (option 2) or Submit an RMA request HERE.