Xenarc Technologies Manufactures Touchscreens For The Automotive Environment
Touchscreens offer many features and benefits despite a hostile operating environment. Xenarc Technologies has been manufacturing small form factor ruggedized all-weather
7"
,
8"
,
9"
,
10"
,
12"
,
15"
,
18"
, 24" automotive grade LCD toushcreen solutions for automotive manufacturers that integrate these rugged LCDs into the vehicles that they manufacture.
Touchscreens are the interface of choice for all in vehicular telematics, appearing in applications from electronics entertainment to GPS navigation and environmental control. The automotive environment is a hostile place for electronic components to function properly, with the main adversaries being water, temperature, humidity, vibration, changes in voltage and shock. Telematics applications are subjected to all of these and more.
Most automotive applications require several buttons to select features and functions. With an automotive grade touchscreen manufactured by Xenarc Technologies, the modality of these buttons can be changed on the fly to different positions, shapes, and sizes to suit the user at the moment interaction is required.
Touchscreen Types
Existing touch interfaces are primarily resistive-type touch panels (RTPs), which can meet the challenges of the automotive environment and the automotive end user mainly because of the materials used in their construction. Currently, the most popular is glass on glass, which is composed of a glass substrate with a very thin glass top layer. Xenarc Technologies manufactures advanced ruggedized touchscreens with capacitive touch technology and resisitive touch technology. Contact our Display Engineers today to discuss which technology is right for your sytem or application.
Environmental Requirements
Environmental considerations such as vibration and shock are important. Typically, the touch panel is affixed to the LCD with some type of nonhardening interface material, and the assembly is shock mounted to the equipment enclosure. Appropriate treatment of the interface surface area between the touch panel's top surface and enclosure is a primary concern for designers to prevent road shock and vibration transmission that could damage the touch panel or LCD.
The current trend among major automotive design houses and automotive manufacturers is to bring the outdoors inside the vehicle through increased glass area thus creating new awareness of sunlight-readability value to the consumer. When a touch panel is added to the LCD, the optical stackup can produce some undesirable effects. These typically include reduced transmission of LCD light, ambient- and spot-lighting reflections, and distracting patterns produced by optical interference.
The most effective touch-panel treatment for a sunlight-readable application is a combination of antireflection and polarizing filters in the touch panel. When used with a high-performance transmissive LCD, a high-contrast image is presented with low-reflected-light interference, ensuring readability even in direct sunlight. These types of enhancements are configurable according to performance and technical requirements, such as viewing and polarization angles.
Engineers and Automators love the ruggedness and the toughness of a Xenarc Monitor especially for critical operations where no down time is allowed or can be risked. Premium Panel Technology by Xenarc Technology for those in critical industries Deliver:
♦ Wider Viewing Angles
♦ Higher Contrast Ratios
♦ Better Color Accuracy
♦ Better Visual Clarity
♦ No Image Distortion
♦ No color Shifting
♦ Improves viewing comfort
♦ Improves overall User Experience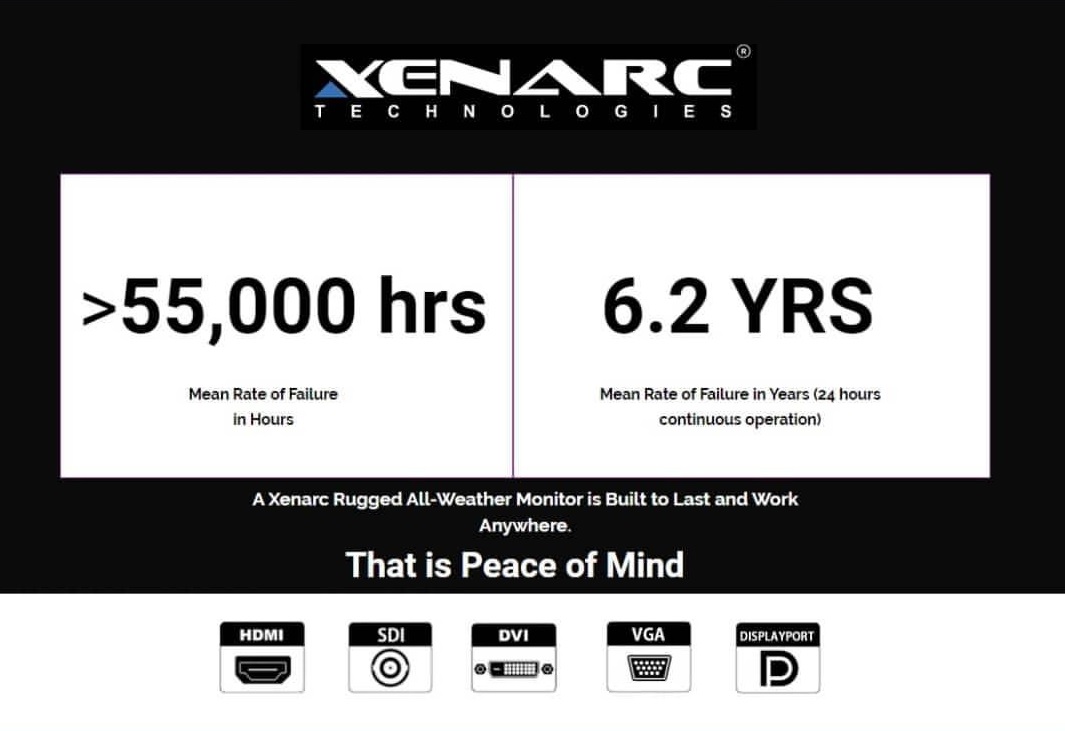 Xenarc rugged small touchscreen monitor solutions 7", 8", 9", 10", 12", 15", 18", 24" are built tough to last. The Mean Time Between Failure (MTBF) for a Xenarc Technologies rugged small monitor is > 55,000 hours OR 6.2 Years of continuous operation and with the new 3 Year Warranty, a Xenarc rugged small monitor gives you truly peace of mind.
Xenarc Technologies all-weather rugged 7", 8", 9", 10", 12", 15", 18", 24" small monitor and small touchscreen solutions are perfect Human Machine Interface for Smart Homes, Smart Factories, Smart Offices, Smart Vehicles, Smart Stores, Smart Cities. IIoT, IoT, Industry 4.0 and for low voltage and indoor or outdoor applications.
Sign Up For Wholesale/Bulk Pricing