Xenarc Technologies has proudly produced and manufactured long-lasting, ruggedized small monitor and small touchscreen display solutions that outlast other touch screens in extreme conditions for over 20 years. Through years of experience with different components, panels, and parts, Xenarc has adjusted and honed its small monitor and small touchscreen display solutions into products that often times will outlast the application they were installed into. But don't take our word for it; here is unsolicited testimony from a customer of Xenarc's since 2004:

"The current 700TSV I am using is an old monitor I bought around 2008 to replace one that was stolen that I had bought in 2004... I am happy it still works! By the way, not only have I been using my monitor for 10 years, but it was in a harsh environment. It stayed in my car in Montreal, with outside temperatures going from -40C in winter to +40C in summer. Do I win something for this??" -Satisfied Customer Since 2004
| | |
| --- | --- |
| 2018 700TSH with HDMI, VGA, DVI, and USB Small Touchscreen | 700TSH Side View; Small Monitor - This item replaced the 700TSV in 2010. |
Xenarc Technologies is proud of its track record of providing small monitor and small touchscreen display solutions with years of trouble-free operation in a multitude of applications and industries. Our small monitor displays have played important roles in not only transportation applications, but system integration, digital signage, mining, public transit, machinery controls, and broadcasting, among others. Please contact us at sales@xenarc.com to find out how our rugged, long lasting products can add value to your application.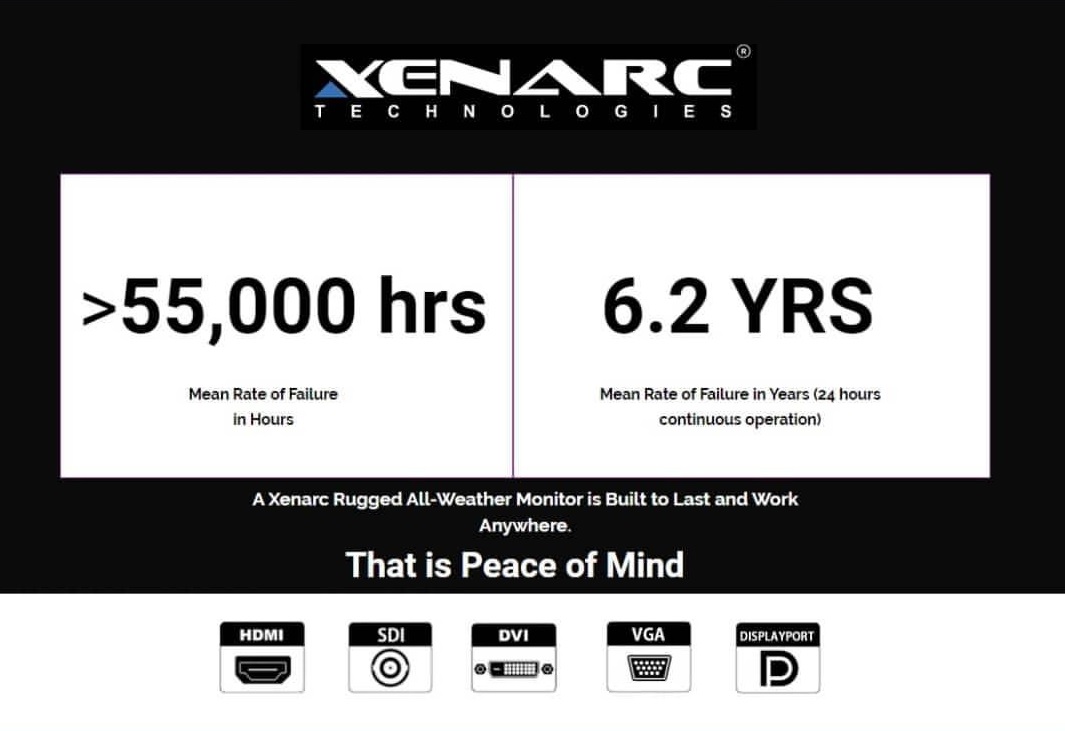 Xenarc Rugged Small Touchscreen and Small Monitor Solutions 7", 8", 9", 10", 12", 15", 18", 24" are built tough to last. The Mean Time Between Failure (MTBF) for a Xenarc Technologies Rugged Small Touchscreen Monitor is > 55,000 hours OR 6.2 Years of continuous operation and with the new 3 Year Warranty, a Xenarc Rugged Monitor gives you truly peace of mind.
Xenarc Technologies All-Weather Rugged 7", 8", 9", 10", 12", 15", 18", 24" Small Monitors are perfect Human Machine Interface for Smart Homes, Smart Factories, Smart Offices, Smart Vehicles, Smart Stores, Smart Cities. IIoT, IoT, Industry 4.0 and for low voltage and indoor or outdoor applications.
Sign Up For Wholesale/Bulk Pricing