All weather rugged touchscreen LCD monitors 7" to 18" are built tough with the latest technology and certifications to perform both indoors and outdoors in the harshest of environments. Xenarc LCD monitors Mean Rate Between Failures (MRBF) is > 55,000 Hours of coninuous operation. That is equivalent to 6.2 Years of peace of mind and over 5 years that you can depreciate your new Xenarc rugged monitors.
Xenarc Technologies all weather LCD monitor displays are well equipped with the latest technology and features including Resistive or Projected Capacitive (PCAP) Touchscreens, sunlight readable / high brightness, wide range temperature operation and environmentally sealed to NEMA 4/IP65/IP67 specifications.
All of Xenarc's all-weather rugged monitors come with HDMI, DVI, SDI, VGA and Displayport with AV inputs so it is compatible with any current system you have. The majority of the industrial and automotive display monitors are E-Mark Certified for automotive use and have wide operating temperature range of -30°C~85°C and input voltage range as wide as 9V~36V DC and voltage spike protection of up to 40V DC.
Xenarc All weather monitors can also be paired with a Sealed Waterproof Computer, Waterproof Keyboards and Mice to provide a complete all-weather, rugged solution. Ideal applications include, Marine, Aviation, Security, Industrial, Interactive Kiosks and Outdoor computing to name a few.
Engineers and Automators love the ruggedness and the toughness of a Xenarc Monitor especially for critical operations where no down time is allowed or can be risked. Premium Panel Technology by Xenarc Technology for those in critical industries Deliver:
♦ Wider Viewing Angles
♦ Higher Contrast Ratios
♦ Better Color Accuracy
♦ Better Visual Clarity
♦ No Image Distortion
♦ No color Shifting
♦ Improves viewing comfort
♦ Improves overall User Experience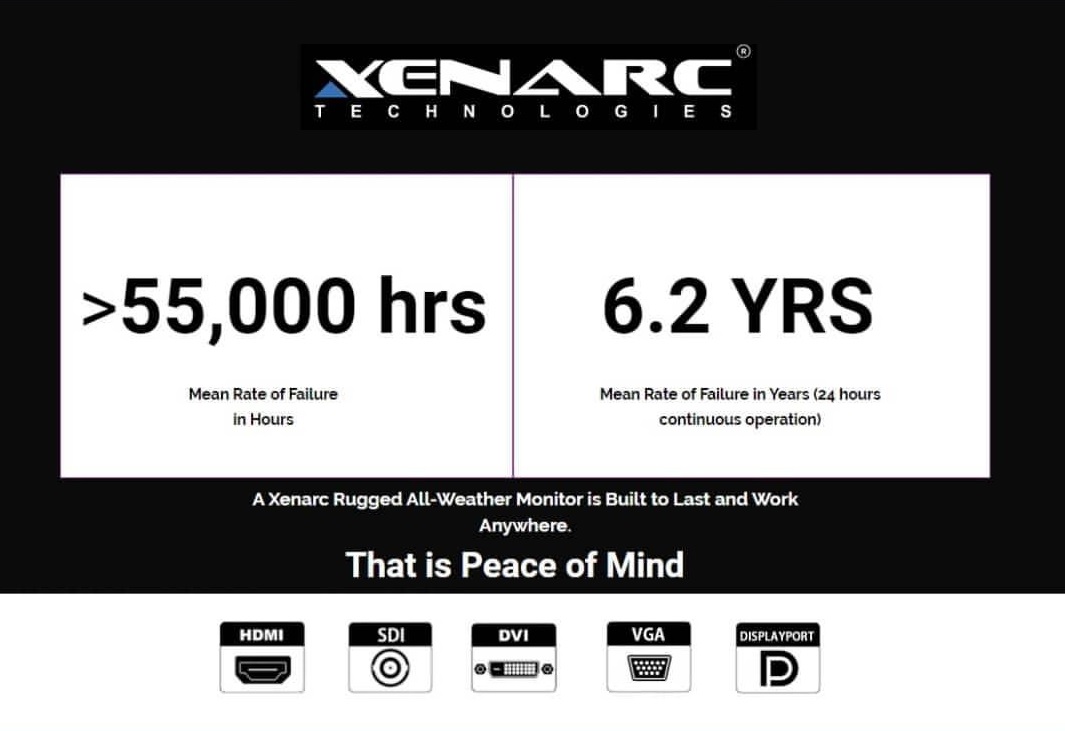 Xenarc Rugged Touchscreen Monitors 7" to 18" are built tough to last. The Mean Rate Between Failure (MRBF) for a Xenarc Technologies Rugged Monitor is > 55,000 hours OR 6.2 Years of continuous operation and with the new 3 Year Warranty, a Xenarc Rugged Monitor gives you truly peace of mind.
Xenarc Technologies All-Weather Rugged 7" to 18" Monitors are perfect Human Machine Interface for Smart Homes, Smart Factories, Smart Offices, Smart Vehicles, Smart Stores, Smart Cities. IIoT, IoT, Industry 4.0 and for low voltage and indoor or outdoor applications.
Please use the product search bar above to help you find the all-weather touchcreen LCD rugged display monitor that is suitable for your application. Xenarc Technologies also provides OEM / ODM and customization services if you don't find a touchscreen that matches your requirements.
Click here to compare all 7" to 18" All-Weather Rugged LCD Monitors