What you need to know about Cleaning and Sanitizing in Food Processing and Beverage Plants
Cleaning and sanitizing is probably one of the most important aspects in food and beverage processing plants, and an effective sanitation program and effective ruggedized touchscreen or display LCD monitor solution that is built tough enough to withstand this harsh environment is the key factor to guaranteeing product quality and success in keeping the factory free of any downtime.
In addition, cleaning and sanitation has an important impact on Public Health, and according to recent data from the Centers for Disease Control and Prevention, about 48 million people in the U.S. (1 in 6) get sick, 128,000 are hospitalized, and 3,000 die each year from foodborne diseases. It is imperative that industrial chemical factories and food and beverage processing plants adhere to strict sanitation and cleaning programs that help protect both workers and the general population that consume these products.

The FDA Food Safety Modernization Act (FSMA), main focus in preventing foodborne illnesses requires and mandates that all food processing and beverage plants adhere to strict daily cleaning and sanitation standards utilizing high pressure and high temperature water/steam mixed with chemicals and harsh detergents or acidic/alkaline disinfectants and requires that all processing and manufacturing plants have daily strict sanitation and regular disinfecting plans to continue operating safely.
''(3) PREVENTIVE CONTROLS.—The term 'preventive controls' means those risk-based, reasonably appropriate procedures, practices, and processes that a person knowledgeable about the safe manufacturing, processing, packing, or holding of food would employ to significantly minimize or prevent the hazards identified under the hazard analysis conducted under subsection (b) and that are consistent with the current scientific understanding of safe food manufacturing, processing, packing, or holding at the time of the analysis. Those procedures, practices, and processes may include the following:
''(A) Sanitation procedures for food contact surfaces and utensils and food-contact surfaces of equipment."
Before discussing the chemicals, we need to understand the differences between cleaners and sanitizers:
Cleaning
Cleaning is the complete removal of food soil using appropriate detergent chemicals under recommended conditions. It is important that personnel involved have a working understanding of the nature of the different types of food soil and the chemistry of its removal.
Sanitation
Treatment of a cleaned surface with a chemical or physical agent to destroy disease/spoilage causing organisms.
What are the Basic Chemistries of Sanitizers used in the Food and Beverage Industry:
Types of Sanitizers: Chlorine / Bleach Sanitizers:
Advantages: Not Affected by Hardness, Oxidizer, Low Cost
Disadvantages: pH range 5-7 most effective, Affected by organic loading, Temperature Instability, Corrosion Chemicals Global Chlorine Sanitizer: SHS-900
* Quat Based Sanitizers:
Advantages: Effective in Acid or alkaline environment
Disadvantages: Hard water interference
Chemicals Global Quat Based Sanitizer: Neuquat
* Iodophor Sanitizers:
Advantages: Less reactive with organics than Chlorine
Disadvantages: Staining, More concentrated / Less Active
Chemicals Global Iodophor Sanitizers: Dicasan IO
* Peracetic Acid – Peroxyacetic Acid (PAA):
Advantages: Oxidizer, Function at low temperature, More active than Chlorine, Iodine; Not affected by organic loading
Disadvantages: Corrosion, Safety in Handling, Odor
Chemicals Global Peracetic Acid Sanitizers: Dicasan PAA
* Acid Anionic Based Sanitizers:
Advantages: Removes Scale
Disadvantages: pH 1.5 to 3.0; Slower against spores
Chemicals Global Acid Anionic Based Sanitizers: Dicasan CIP
Understanding the Types of Cleaning Methods That a Xenarc 2409 Series can withstand:
Cleaning is the complete removal of food soil using appropriate detergent chemicals under specific conditions. It is important that personnel involved have a working understanding of the nature of the different types of food soil and the chemistry of its removal.
Here are the Cleaning Methods based on the type of equipment:
Mechanical Cleaning. Often referred to as clean- in-place (CIP), disassembly is not required, or only partial disassembly is necessary.
Clean-out-of-Place (COP). Can be partially disassembled and cleaned in specialized COP pressure tanks.
Manual Cleaning. Requires total disassembly for cleaning and inspection.
Foam Cleaning and Some Recommended Application Techniques:
Foam cleaning offers a great solution to many of the cleaning requirements for the Food and Beverage Industries, delivering safe and effective cleaning to the food safety requirements. The foams cling to all surfaces allowing extended contact times and the most effective cleaning results.
Foaming Resistant IP69K Touchscreen Solutions Can Withstand Daily:
High Pressure, High Temperature Foam Up, Rinse Down
Wet or Dry Foams compatible
Maximum Hose Length about 60 feet to close range spraydowns or washdowns
Easy to clean Surfaces (i.e. Aluminum)
Can withstand hot steam
Saltwater
Corrosive chemicals
Can withstand being hit with flying objects on the factory floor
Touchscreen can function with gloves and wet hands
Cleaning and Sanitizing procedures should be continuously monitored; for long term evaluation, it is important to follow a Food Safety Program to make sure your plant is compliant with FDA regulations. Xenarc Technologies 2409 Series can withstand daily close range high pressure, high temperature cleaning and sanitizing procedures as recommended by the FDA with all types of chemical or harsh detergents and acidic/alkaline based disinfectant solutions.
Here are the top recommended steps for successfully cleaning/sanitizing of food product contact surfaces and that the Xenarc Technologies 24" Stainless Steel Rugged Capacitive Touchscreen and LCD Monitor are capable of withstanding:
Dry Clean-Up
High Pressure, High Temperature Pre-Rinse
Chemical Cleaning
Scrub
Rinse
Inspect and Re-Clean
High Pressure, High Temperature Sanitizer or Disinfectant Solutions,
Rinse and Sanitize again (if necessary)
Industrial Engineers and Industrial Automators that are looking for compatible ruggedized touchscreen LCD Monitor solutions that meet and can withstand the FDA stringent sanitation and cleaning daily requirements can trust the rugged touchscreen solutions manufactured by Xenarc Technologies to outperform in the world's harshest of environments.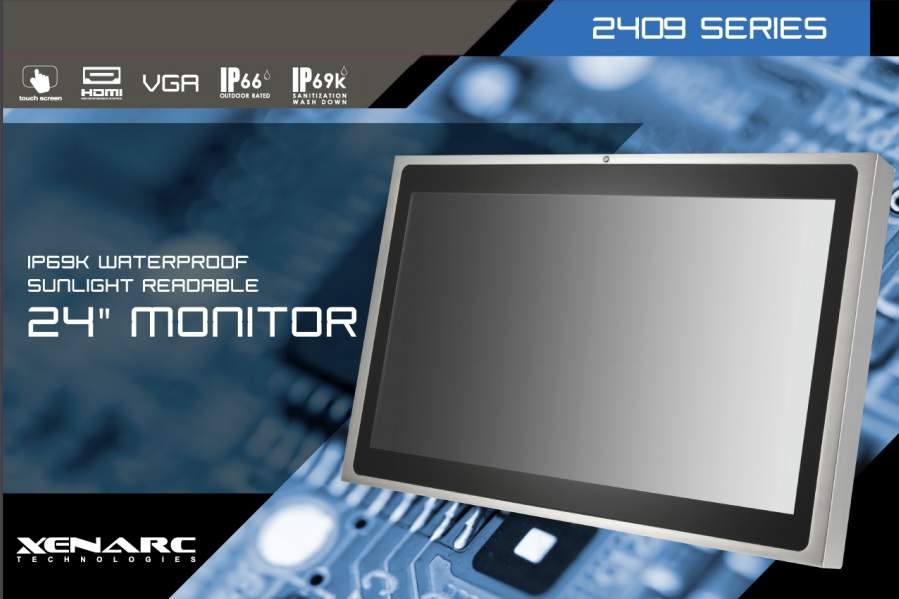 Xenarc Technologies rugged 2409 Series solutions were designed and manufactured specifically with the following industries in mind.
Chemical Factories
Pharmaceutical Factories
Industrial Factories
Food Processing Factories
Beverage Plants
Marine Vehicles
Restaurants and Kitchens
Digital Signage Indoor or Outdoor Applications
Xenarc Technologies 2409 Series has an ingress protection of 69 (IP69K) which means that it has been tested to fully withstand environments that require daily heavy sanitation and cleaning with high pressure and high temperature spraydown and washdowns to protect electronic circuits and instrumentations enclosed within the unit.
The IP69K rating offers complete assurance that the piece of equipment that has undergone tests is both durable and resistant and conforms to the highest protection rating on the ingress protection scale.

The 24" 2409 Series features IP69K ruggedization with an enclosed STAINLESS STEEL enclosure, which allows the monitors to withstand close range, high temperature and high pressure spray downs for daily sanitization, and the rigid enclosure helps it withstand harsh detergents, acidic/alkaline disinfectants, and even seawater.
These Xenarc displays will satisfy the stringent sanitation requirements of food processing, beverage production, pharmaceutical manufacturing, and chemical factories as previously stated.
How does a product achieve the IP69K rating?
Products bearing the IP69K rating undergo a challenging set of tests to ensure that they offer protection against penetration of high pressure, high temperature water and dust.
How is the water intrusion test performed?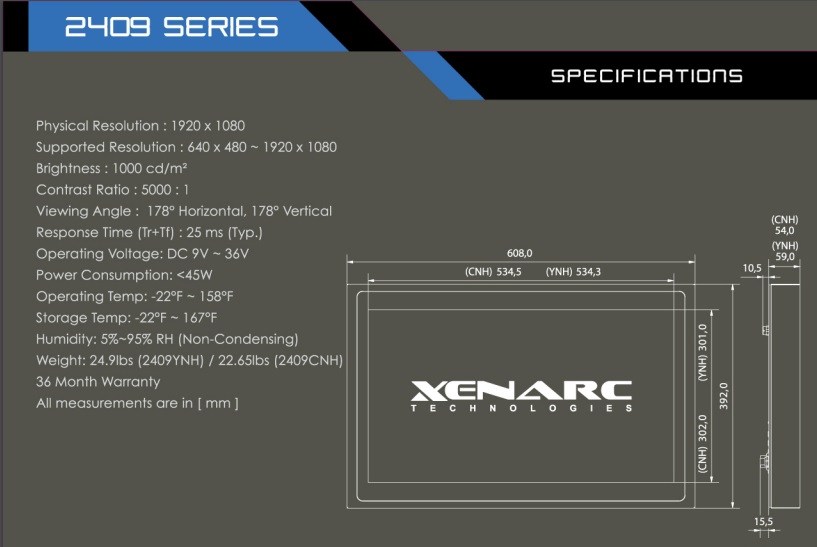 The water intrusion tests themselves are done by placing the product on a turntable with a rotational speed of 5 ±1 revolutions per minute. The product is then sprayed at close range at a rate of approximately 4 gallons/16 liters per minute with water pressure of between 1160-1450 psi, at a temperature of 176°F/80°C.
The nozzle from which the water is sprayed is held between 4 and 6 inches from the product, at a variety of angles. Following this rigorous testing procedure, the product is deemed as having successfully achieved the rating if it completely resists water ingress.
A wide temperature range allows these displays to operate at temperatures down to -22 F (-30C) and withstand temperatures up to 158 F (70C), making them perfect for food processing applications where refrigeration or freezing is a must, or in marine and outdoor applications where marine spray or sub-freezing temperatures and direct sun exposure may make other displays unusable.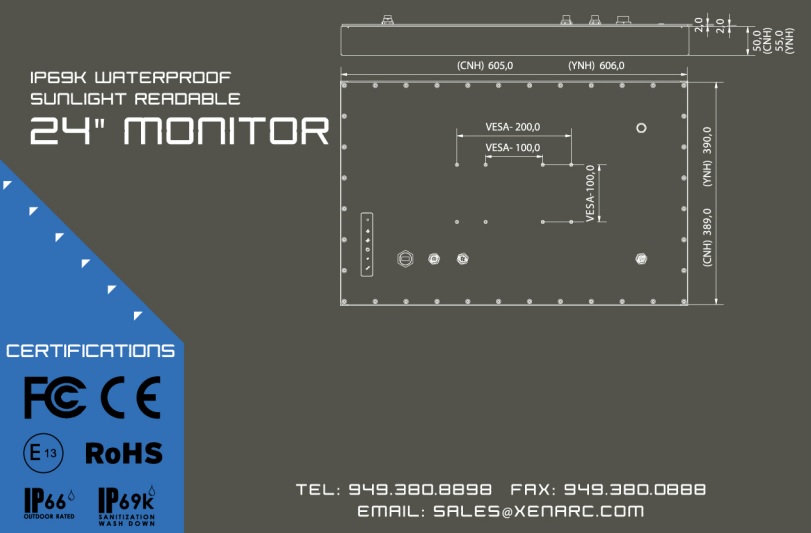 Sources:
https://www.fda.gov/food/guidance-regulation-food-and-dietary-supplements/food-safety-modernization-act-fsma
Basic Elements of Equipment Cleaning and Sanitizing in Food Processing and Handling Operations1, Ronald H. Schmidt, Ph. D., professor and food science extension specialist, Food Science and Human Nutrition Department., Cooperative Extension Service, Institute of Food and Agricultural Sciences, University of Florida, Gainesville, 32611.
Dubois Chemicals University