Digital signs use technologies such as LCD Monitors and Digital Projection to display content such as digital images, video, streaming media, and information about your business. They are becoming extremely popular and can be found in public spaces, transportation systems, museums, stadiums, retail stores, hotels, restaurants, and corporate buildings etc, to provide wayfinding, exhibitions, marketing and outdoor advertising.
You have seen those big TV screens installed in more & more public areas like gas pumps, food menu boards & lots of other places. These LCD Display monitors are specialized industrial-grade to withstand constant abuse by customers and need to operate 24/7/365 days of the year. Xenarc Technologies manufactures different size of display monitors to fit your digital signage application or casino gaming system of displays. Enhance the shopping experience of your customers by offering touch screen menu ordering display screens or digital signage displaying information about your business to increase foot traffic and in-store purchases.
Xenarc Technologies Corporation offers a comprehensive and versatile line of LCD displays that can cover any need in casino gaming or digital signage. Our background in Point of Sale has translated well into the casino gaming industry, where many casinos, including some of the largest, have integrated our gaming LCD LED Touch Screen industrial-grade monitor displays as an input device and gaming touchscreen device on their gaming machines.
Many of our monitor displays feature 5-wire resistive touch panels made of tempered glass, coated with heavy duty ITO film. This adds durability and increases touch sensitivity to insure flawless operation in a variety of environments. We also offer armored touchsreens (glass-flim-glass) for added ruggedness, as well as optically bonded displays for brighter, more readable visuals on a more durable panel. Upgraded backlight modules also increase the brightness of the casino gaming and digital display monitors and offer an extended product life. Xenarc Technologies also offers a full breadth of size ranges to cover any digital signage need. Our offerings go from 7" all the way to 15" and further for custom displays, both in 4:3 and 16:9 display formats.
All of our products come with a 2 year warranty and a no dead pixel guarantee.
Why is a Xenarc Technologies LCD Casino Gaming/Digital Signage Grade Display Monitor a great investment for Your Next Digital Signage and Casino Gaming Video Display Integration Project?
• Custom designed for all types of Digital Signage/Casino Gaming Sytems
• Built with industrial-grade components
• Designed for 24/7/365 operation
• Easy installation and integration
• High Temperature & Vibration Resistant
• Waterproof and Dust Proof
• Modified or custom monitors, built to your specifications
• No dead pixel guarantee
• 3-Year Warranty
• Designed for 24/7/365 continuous operation; MRBF > 55,000 hours or 6.2 Years
For further information on integrating our casino gaming monitor or digital signage displays into your system, please fill out our Integrator Form at https://www.xenarc.com/integrators.php or for a custom display, please fill out our Custom Displays form at https://www.xenarc.com/custom_monitor.php. Please feel free to contact us at 888.656.6536 or via e-mail at sales@xenarc.com.
Past Casino Gaming & Digital System Integration Projects
Casino Gaming & Digital Signage Integration Customers
Engineers and Automators love the ruggedness and the toughness of a Xenarc Monitor especially for critical operations where no down time is allowed or can be risked. Premium Panel Technology by Xenarc Technology for those in critical industries Deliver:
♦ Wider Viewing Angles
♦ Higher Contrast Ratios
♦ Better Color Accuracy
♦ Better Visual Clarity
♦ No Image Distortion
♦ No color Shifting
♦ Improves viewing comfort
♦ Improves overall User Experience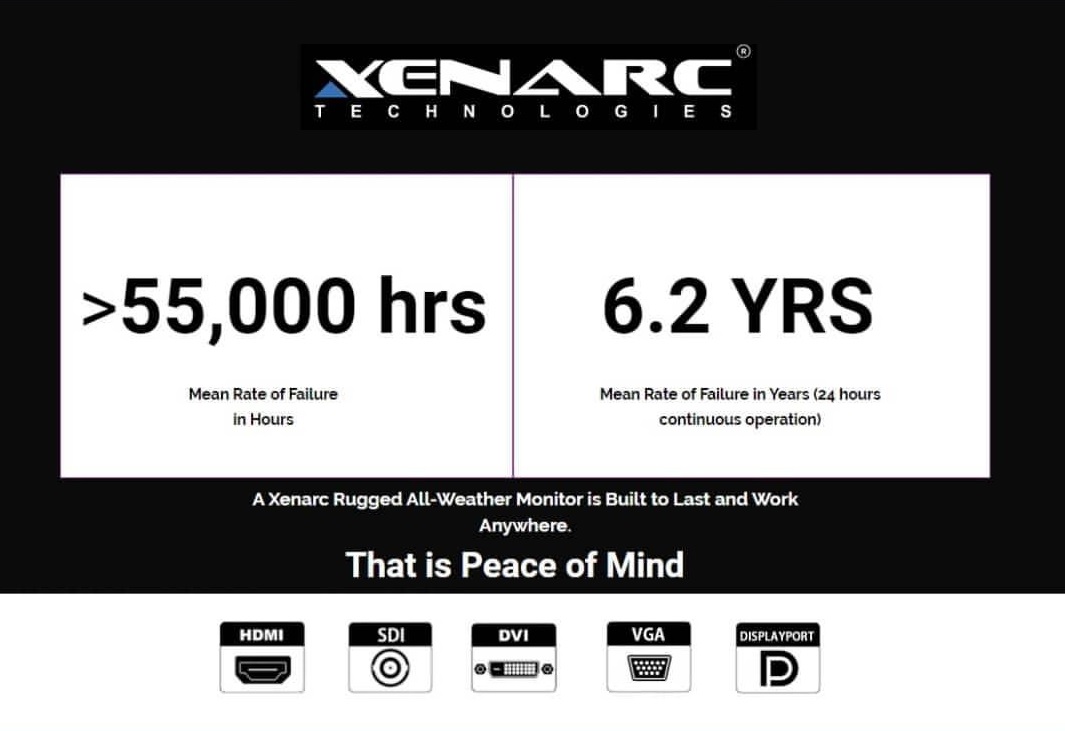 Xenarc Rugged Touchscreen Monitors 7" to 18" are built tough to last. The Mean Rate Between Failure (MRBF) for a Xenarc Technologies Rugged Monitor is > 55,000 hours OR 6.2 Years of continuous operation and with the new 3 Year Warranty, a Xenarc Rugged Monitor gives you truly peace of mind.