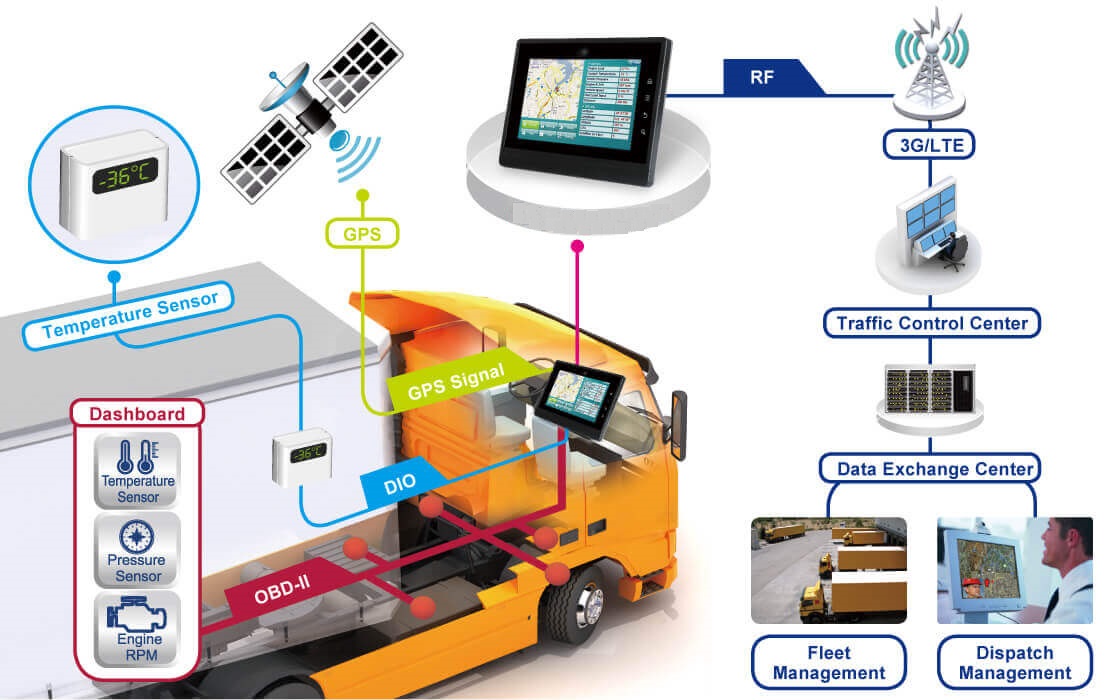 Enhance productivity and efficienty, cut costs & boost profits with custom cold chain warehouse grade ruggedized LCD touchscreen display solutions manufactured by Xenarc Technoloiges the last 20 years. The best rugged all-weather small LCD monitor touchscreens that are compatible with all cold temperature controlled warehouse management systems and cold climate controlled logistics vehicles that transport frozen goods inside the cold storage warehouse and outside to be transported by truck, shipping boat or airplane are manufactured by Xenarc Technologies.
Monitor & manage your cold chain warehouse mobile workforce more efficiently within the cold storage warehouse with ease with the best rugged durable displays that can easily be integrated and mounted into any cold temperature controlled warehouse vehicle such as a forklift and any cold warehouse systems or warehouse applications.
Cold Storage Climate Controlled Warehouse & Logistics Touchscreen Solutions from Xenarc Technologies remove and minimize the risks associated with bulk equipment investment, improving efficiency, productivity and reducing your overall transportation and staffing costs, providing 100% compliance with government legislation (duty of care) and many more benefits.
Click here to compare all 7", 8", 9", 10", 12", 15", 18", 24" rugged LCD Touchscreen Monitors.
Manufacturer of custom warehouse and logistics touch screen solutions that integrate anywhere using:
Resistive Touch Technology

Capacitive Touch Technology

High Bright Sunlight Readable Screen Technology

Dust Protective Ruggedized Screens

Anti-Reflective Coating Screens

Waterproof IP67 Technology Anti Fogging

Optical Bonded Ruggedized All-Weather Technology

GFG Armored Touch Panel

Operating Voltage Range: DC 9V ~ 36V

Power Consumption: ≤ 20W

Operating Temperature: -4°F ~ 158°F (-20°C ~ 70°C)

Vibration Proof: Operating Random Vibration Test (5-500Hz, 1.0Grms), IEC 60068-2-64 standard

Shock Proof: Operating Shock Test, 10G peak acceleration (11ms duration), IEC 60068-2-27 standard

MTBF (Mean Time Between Failures): > 55,000 Hours or > 6.2 Years of continuous operation
Contact the Touch Screen Display Engineers about your project requirements and we will be happy to guide you which display solutions integrate perfectly with your cold storage climate controlled warehouse and vehicles and compatible with your warehouse management systems.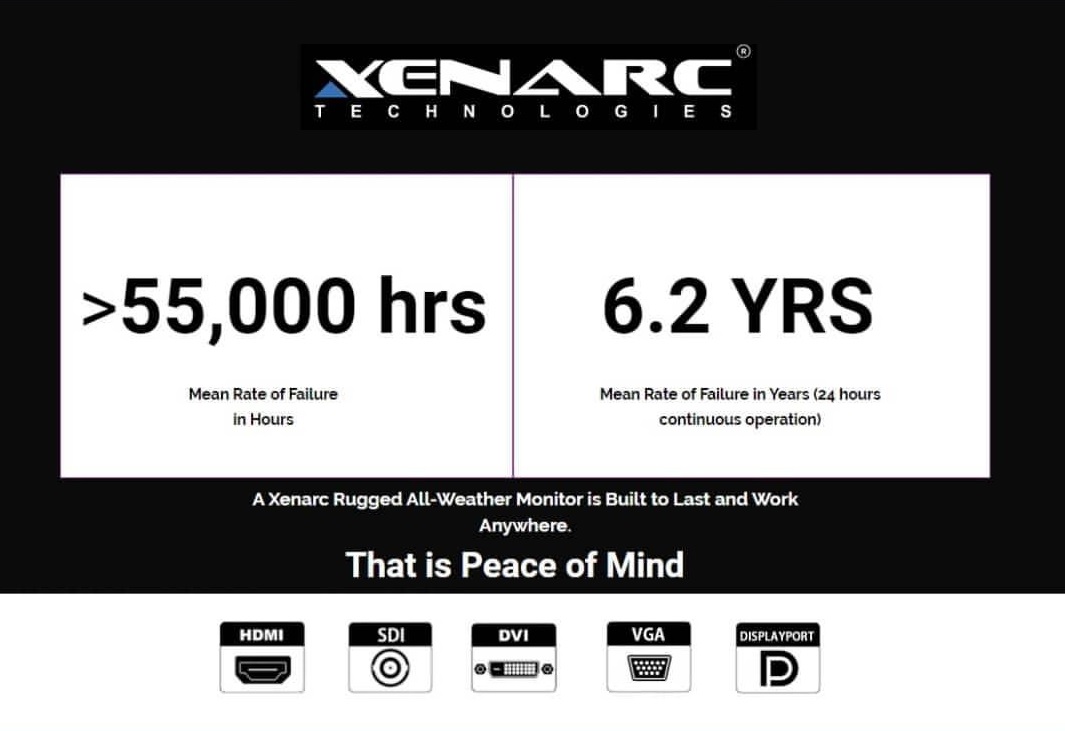 Xenarc rugged small touchscreen monitor solutions 7", 8", 9", 10", 12", 15", 18", 24" are built tough to last. The Mean Time Between Failure (MTBF) for a Xenarc Technologies rugged small monitor is > 55,000 hours OR 6.2 Years of continuous operation and with the new 3 Year Warranty, a Xenarc rugged small monitor gives you truly peace of mind.
Xenarc Technologies all-weather rugged 7", 8", 9", 10", 12", 15", 18", 24" small monitor and small touchscreen solutions are perfect Human Machine Interface for Smart Homes, Smart Factories, Smart Offices, Smart Vehicles, Smart Stores, Smart Cities. IIoT, IoT, Industry 4.0 and for low voltage and indoor or outdoor applications.
Sign Up For Wholesale/Bulk Pricing