Field service industries are investing heavily in mobility solutions that make their field service workforce more efficent and thus more profitable. Many field service management systems use ruggedized hardware equipment to connect all mobility workforce vehicles to the field service management system and many rely on ruggedized small form factor 7", 8", 9", 10", 12", 15", 18", 24" LCD touchscreen display monitors and tablets made with industrial grade electronic components and with ruggedized features and technology that enable your mobility workforce to deliver improved service and a more personalized experience to your customers.
Mobility Telematics
Companies are using mobile computing to improve communication in the field, increase productivity, streamline work processes, and enhance customer service and loyalty. Field service software and hardware such as ruggedized LCD touchscreen monitor solutions manufactured by Xenarc Technologies can be used for scheduling and routing optimization, automated vehicle location, remote vehicle diagnostics, driver logs and hours-of-service tracking, inventory management, field worker management and driver safety. Mobile software may use databases containing details about customer-premises equipment, access requirements, and parts inventory.
Mobility Field Service Workforce Industry Examples
Field Service Management Systems and Telematics are used to manage resources in several industries.
In Telecommunications and cable industry, technicians who install cable or run phone lines into residences or business establishments.
In Healthcare, mobile nurses and doctors who provide in-home care for elderly or disabled.
In Utilities Industries such as electricity, water, gas utilities, engineers who are dispatched to investigate and repair suspected leaks or technicians who shut or open and read meters.
In Heavy Industrial Manufacturing & Engineering, mining, industrial and manufacturing, technicians dispatched for preventative maintenance and repair.
In Property maintenance, including landscaping, irrigation, and home/office cleaning.
In HVAC industry, technicians who have the expertise and equipment to investigate units in residential, commercial and industrial environments.
In peer to peer Ride & Delivery Services such as Uber, Lyft, Uber Eats, Postmates, DoorDash and many more.
Any other industry where a mobile workforce is required to deliver goods and services to customers in the field.
Click here to compare all 7" to 18" rugged LCD Touchscreen Monitors.
Manufacturer of custom warehouse and logistics touch screen solutions that integrate anywhere using:
Resistive Touch Technology

Capacitive Touch Technology

High Bright Direct Sunlight Readable Screen Technology

Dust Protective Ruggedized Screens

Anti-Reflective Screens

Waterproof IP67 Technology Anti Fogging

Optically Bonded Ruggedized All-Weather Technology

Glass Film Glass (GFG) Armored Touch Panel

Operating Voltage Range: DC 9V ~ 36V

Power Consumption: ≤ 20W

Operating Temperature: -4°F ~ 158°F (-20°C ~ 70°C)

Vibration Proof: Operating Random Vibration Test (5-500Hz, 1.0Grms), IEC 60068-2-64 standard

Shock Proof: Operating Shock Test, 10G peak acceleration (11ms duration), IEC 60068-2-27 standard

MTBF (Mean Time Between Failures): > 55,000 Hours or > 6.2 Years of continuous operation
Contact our Touch Screen Display Engineers about your project requirements and we will be happy to guide you which display solutions integrate perfectly with your field mobility application and software.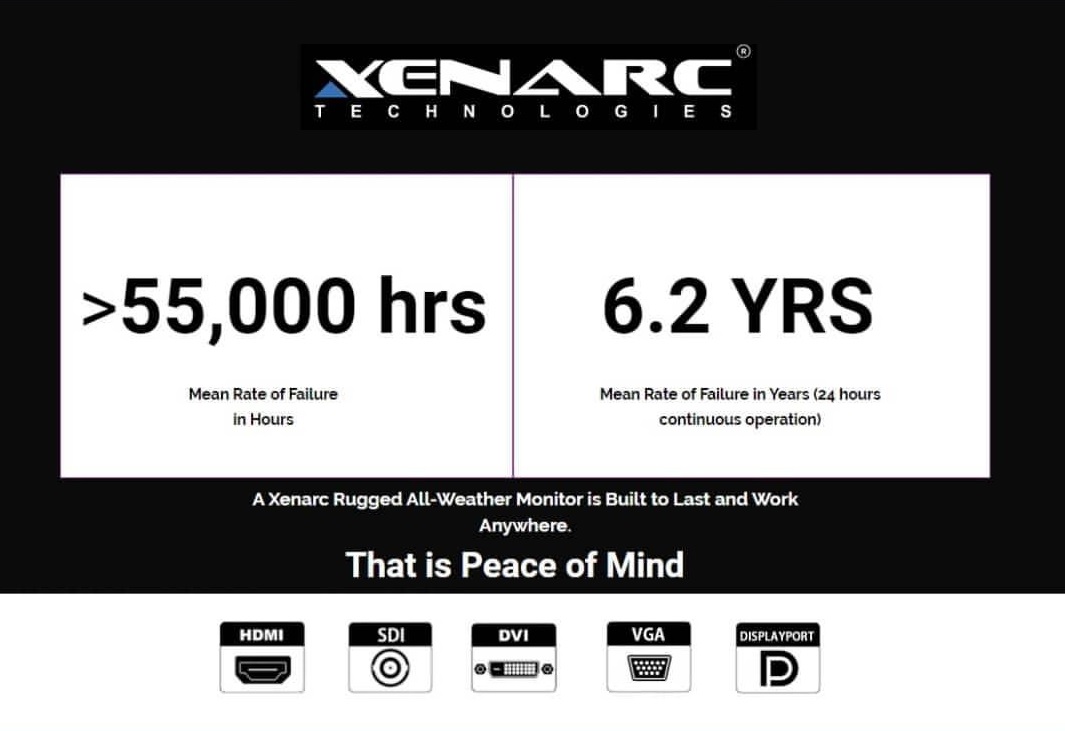 Xenarc rugged small touchscreen monitor solutions 7", 8", 9", 10", 12", 15", 18", 24" are built tough to last. The Mean Time Between Failure (MTBF) for a Xenarc Technologies rugged small monitor is > 55,000 hours OR 6.2 Years of continuous operation and our industry leading 3 Year Warranty, a Xenarc rugged small monitor gives you true peace of mind.
Xenarc Technologies all-weather rugged 7", 8", 9", 10", 12", 15", 18", 24" small monitor and small touchscreen solutions are perfect Human Machine Interface for Smart Homes, Smart Factories, Smart Offices, Smart Vehicles, Smart Stores, Smart Cities. IIoT, IoT, Industry 4.0 and for low voltage and indoor or outdoor applications.
Sign Up For Wholesale/Bulk Pricing