Xenarc Technologies has been manufacturing small form factor ruggedized LCD touchscreen monitors for heavy duty industries such as Mining, Dredging, Metal and Energy (Oil & Gas), as well as the military. Xenarc Technologies has invested heavily in the development, designing, testing and manufacturing of only the best heavy duty touchscreen solutions tailored to your heavy duty industry and heavy duty manufacturing applications.
Xenarc Technologies Heavy Duty LCD Touchscreen Solutions have been integrated in mining vehicles, dredging vehicles, mining control rooms, metal factories, oil and gas platforms, oil and gas equipment vehicles, and drilling machinery. Xenarc touchscreen soluions are designed to withstand the stress and demanding use out in the field. Regular office monitors and personal monitors would not last in these harsh conditons. Extreme pressure, extreme temperatures and extreme use and abuse are just some of the elements that these heavy duty touchscreens must withstand without failing. Critical Systems rely on ruggedized heavy duty touchscreen display solutions for their reliablity and minimal any down time.
Why do our heavy duty touchscreen solutions outlast others in extreme harsh conditions? Why do our heavy duty touchscreen solutions have a wider temperature range and a wider voltage input range? It's because our mission is to offer our heavy duty industrial customers the best ruggedized products for any situation. By utilizing high grade industrial components, these heavy duty touchscreen display solutions are perfect for mining vehicles of any size, in-car computing applications or any other applications where a small, durable, ruggedized display may be required.
Click here to compare all 7", 8", 9", 10", 12", 15", 18", 24" rugged LCD Touchscreen Monitors.
Manufacturer of custom warehouse and logistics touch screen solutions that integrate anywhere using:
Resistive Touch Technology

Capacitive Touch Technology

High Bright, Direct Sunlight Readable Screen Technology

Dust Protective Ruggedized Screens

Anti-Reflective Coating

Waterproof IP67 Technology for Anti Fogging

Optically Bonded Ruggedized All-Weather Technology

Glass Film Glass (GFG) Armored Touch Panel

Operating Voltage Range: DC 9V ~ 36V

Power Consumption: ≤ 20W

Operating Temperature: -4°F ~ 158°F (-20°C ~ 70°C)

Vibration Proof: Operating Random Vibration Test (5-500Hz, 1.0Grms), IEC 60068-2-64 standard

Shock Proof: Operating Shock Test, 10G peak acceleration (11ms duration), IEC 60068-2-27 standard

MTBF (Mean Time Between Failures): > 55,000 Hours or > 6.2 Years of continuous operation
Contact our Touch Screen Display Engineers about your project requirements and we will be happy to guide you as to which display solutions integrate perfectly with your specialized applications.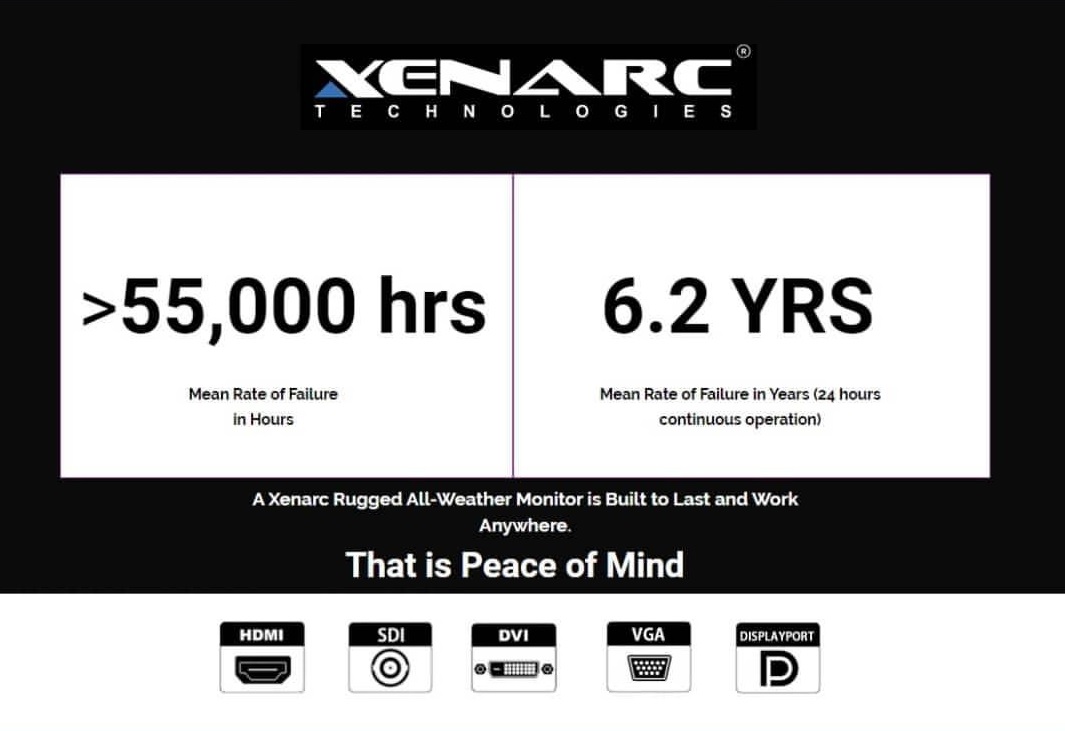 Xenarc rugged small touchscreen monitor solutions 7", 8", 9", 10", 12", 15", 18", 24" are built tough to last. The Mean Time Between Failure (MTBF) for a Xenarc Technologies rugged small monitor is > 55,000 hours OR 6.2 Years of continuous operation and with our industry leading 3 Year Warranty, a Xenarc rugged small monitor gives you true peace of mind.
Xenarc Technologies all-weather rugged 7", 8", 9", 10", 12", 15", 18", 24" small monitor and small touchscreen solutions are perfect Human Machine Interface for Smart Homes, Smart Factories, Smart Offices, Smart Vehicles, Smart Stores, Smart Cities. IIoT, IoT, Industry 4.0 and for low voltage and indoor or outdoor applications.
Sign Up For Wholesale/Bulk Pricing