Xenarc Technologies Corporation was a pioneer in-vehicle Automotive mobile computing touch screen display monitor manufacturing starting at its inception in 2002. We were the first to market with a small form factor Automotive VGA monitor in the 700YV and also the first with a touch screen version in the iconic 700TSV. Whether used for Automotive in-car entertainment, in-vehicle display systems, fleet management and fleet telematics, or vehicle tracking, our in-vehicle display monitors and in-car touch screens displays were conceived for use in Fleet Management, Transportation and Logistic Applications.
All of our Automotive in-car touch screen LCD displays come equipped with upgraded backlight modules that provide increased brightness and extended overall product life. Often times, in-vehicle LCD monitor displays require ultra-high bright solutions, in which case our product line offers a full array (702TSV/703TSP/802YV/802TSV/1022YH/1022TSH). Our Automotive in-car display touch screen LCD monitors are also tested stringently for high/low temperature certification as well as vibration stress tested, and are e-Mark Certified for automotive use in Europe.
In-vehicle Automotive touch screen display monitors manufactued by Xenarc Technologies are compact enough to be installed in most vehicles used in logistics; such as transportation trucks, forklifts and cranes. Moreover, the rugged Automotive in-vehicle panel PC is protected by a shock resistant outer casing with an IP54, IP65, IP67 rating on its front panel.This secures the internal components from being damaged by foreign intrusions such as dust, water and dirt.
As a fleet management and logistics solution, our vehicle mount computer display monitors are capable of functioning in temperatures between -20°C to 70°C. This means that the industrial-grade display monitor will operate optimally in different conditions, making it suitable for vehicles travelling across various terrain.
Why is a Xenarc Technologies LCD Transportation Management Automotive Grade Display Monitor a great investment for Your Next In-Car Video Display Integration Project?
• Custom designed for all types of Automotive vehicles
• Built with industrial-grade components
• Designed for 24/7/365 fleet management critical continuous operation
• Easy installation and integration with your fleet managment system
• High Temperature & Vibration Resistant
• Guarateed Long-Term Availability
• Modified or custom monitors, built to your specifications
• No dead pixel guarantee
• 3-Year Warranty
• Designed for 24/7/365 continuous operation; MRBF > 55,000 hours or 6.2 Years
For further information on integrating our automotive-grade vehicle monitor displays into your fleet of vehicles or transportation system, please fill out our Integrator Form at https://www.xenarc.com/integrators.php or for a custom display inquiry, please fill out our Custom Displays form at http://www.xenarc.com/custom_monitor.php. Please feel free to contact us at 888.656.6536 or via e-mail at sales@xenarc.com.
Past In-Car System Integration Projects
Transportation Fleet Management Customers
In-Vehicle Telematics Touch Screen Display Monitors by Xenarc Technologies
Click here to Read Purdue University's White Paper Titled "AUTOMATED VEHICLE LOCATION (AVL) FOR ROAD CONDITION REPORTING" that uses our Automotive Box Rugged PC and our Small Form Factor Automotive Grade 7" to 18" truly rugged display monitors for data collection.
Engineers and Automators love the ruggedness and the toughness of a Xenarc Monitor especially for critical operations where no down time is allowed or can be risked. Premium Panel Technology by Xenarc Technology for those in critical industries Deliver:
♦ Wider Viewing Angles
♦ Higher Contrast Ratios
♦ Better Color Accuracy
♦ Better Visual Clarity
♦ No Image Distortion
♦ No color Shifting
♦ Improves viewing comfort
♦ Improves overall User Experience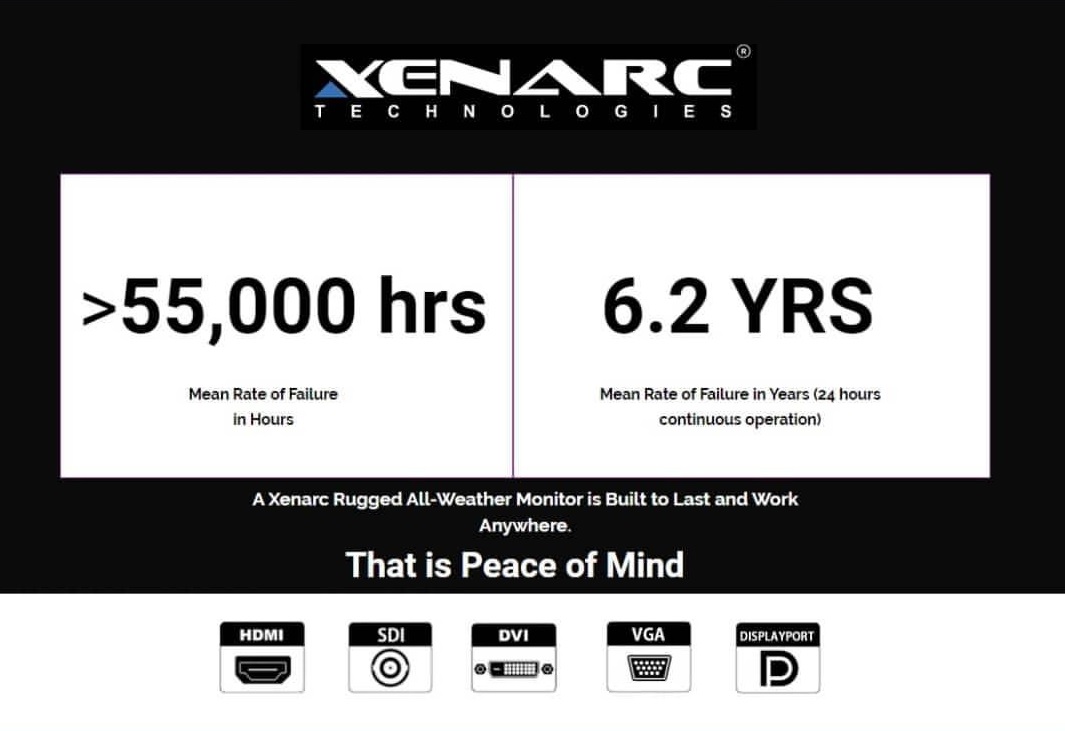 Xenarc Rugged Touchscreen Monitors 7" to 18" are built tough to last. The Mean Rate Between Failure (MRBF) for a Xenarc Technologies Rugged Monitor is > 55,000 hours OR 6.2 Years of continuous operation and with the new 3 Year Warranty, a Xenarc Rugged Monitor gives you truly peace of mind.