Medical display technology has come a long way over the years, with devices that can scan entire bodies and offer medical professionals a non-invasive way to make a positive diagnosis. If you are using a second-rate or regular display monitor to view radiology scans or x-rays, you could be risking a misdiagnosis. Does your current monitor offer crisp, clear, and precise details on every line no matter how small? Can you view the entire screen without any dark spots or dead pixels showing up? If not, replacing this device for a medical-grade touch screen display monitor from Xenarc Technologies should be of vital necessity.
Xenarc Technologies Corporation has proudly had many of its industrial-grade/automotive grade/enterprise-grade/military-grade touch screen monitor displays certified for medical use in a number of medical applications and medical system integrations. From MRI displays to ultrasound machines, our touch screen display monitors have passed stringent medical certification for many hospitas, clinics and medical Doctor's offices and many other clients.
Xenarc Technologies is one of the first touch screen LCD monitor display manufacturing companies to offer water repulsion capability on any of our medical TFT displays. Through a patented molecular level coating, we can make any of our medical touch screens displays water resistant, and we now have medical displays that are completely IP65 and IP67 water and dust proof (709CNH/1029CNH/1029GNH)
Brightness is often a concern when looking at medical images, and all of our MRI touch screen display monitors come with upgraded backlight modules that achieve up to 1000 nits brightness with our patented anti-reflective panel coating (702TSV/703TSP/802YV/802TSV/1022YH/1022TSH). We also now offer optically bonded medical touchscreens that further reduce glare and reflections, as well as any humidity issues with fogging (702GSH/1029GNH)
Why is a Xenarc Technologies LCD Medical Grade Display Monitor a great investment for Your Next Medical Video Display Integration Project?
• Custom designed for all types of medical uses
• Built with industrial-grade components
• Designed for 24/7/365 continuous operation; MRBF > 55,000 hours or 6.2 Years
• Easy installation and integration with your medical application/system
• High Temperature & Vibration Resistant
• Waterproof and Dust Proof
• Modified or custom monitors, built to your specifications
• 3 Year Warranty and No dead pixel guarantee
• Award Winning Xenarc Technical Support
For further information on integrating our medical monitor into your system, please fill out our Integrator Form at https://www.xenarc.com/integrators.php or for a custom display, please fill out our Custom Displays form at https://www.xenarc.com/custom_monitor.php. Please feel free to contact us at 888.656.6536 or via e-mail at sales@xenarc.com.
Past Medical Integration Projects
System & Medical Integration Customers

Engineers and Automators love the ruggedness and the toughness of a Xenarc Monitor especially for critical operations where no down time is allowed or can be risked. Premium Panel Technology by Xenarc Technology for those in critical industries Deliver:
♦ Wider Viewing Angles
♦ Higher Contrast Ratios
♦ Better Color Accuracy
♦ Better Visual Clarity
♦ No Image Distortion
♦ No color Shifting
♦ Improves viewing comfort
♦ Improves overall User Experience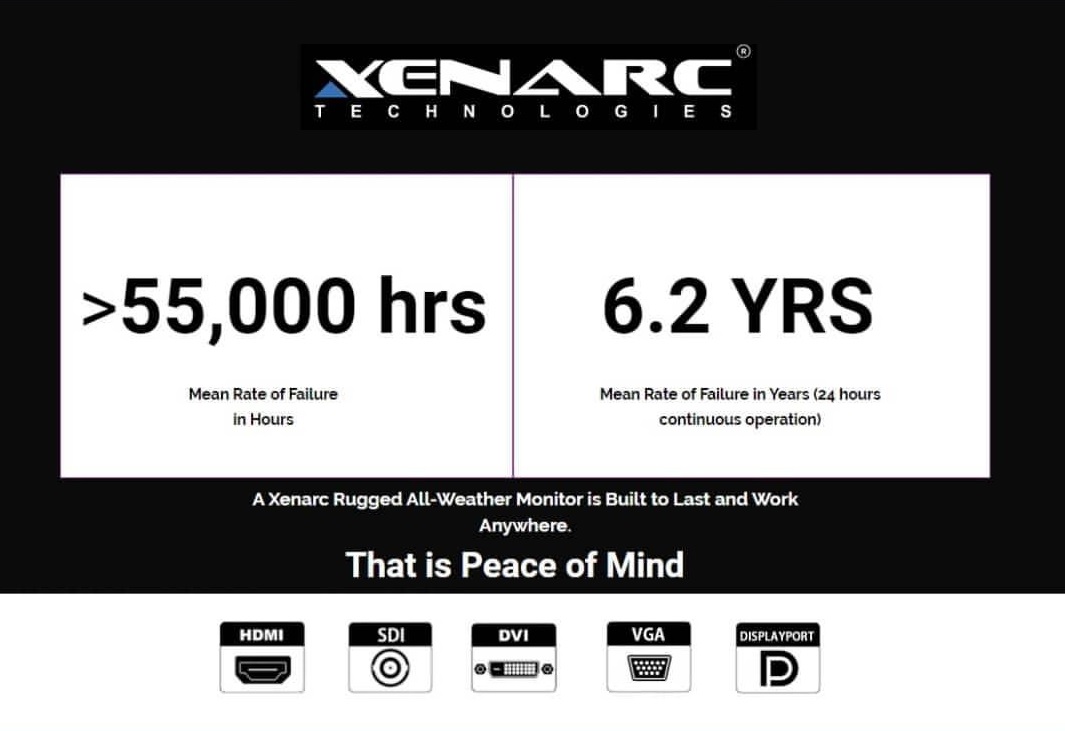 Xenarc Rugged Touchscreen Monitors 7" to 18" are built tough to last. The Mean Rate Between Failure (MRBF) for a Xenarc Technologies Rugged Monitor is > 55,000 hours OR 6.2 Years of continuous operation and with the new 3 Year Warranty, a Xenarc Rugged Monitor gives you truly peace of mind.