Rugged, heavy duty touchscreen LCD monitors are an integral part of the restaurants Point of Sale (POS) Systems, retail stores self-checkout kiosks and POS Systems, counters POS touchscreens at grocery stores, bars and nightclubs and at almost all service industry's point of sale checkout registers.
Employees can touch a part of the touchscreen in place of using a mouse, saving time and reducing clutter in the Point Of Sale area at time of checkout, improving customer experience and customer service. Xenarc Technologies manufactures a wide variety of Point of Sale (POS) touchscreens and can customize any size of touchscreen to fit your POS Retail System and POS Sytem applications and Integrations requirements.
Xenarch Technologies heavy duty, rugged touch screen display LCD monitor Point of Sale solutions are available from 10" inches, 12" inches, 15" inches and up to the full 18" inch touch monitor but the most popular are the 15" and 18" inch sizes. These POS Display touch monitor solutions are built to handle greater abuse than standard LCD displays, extending their lifespan even in harsh environments. Not all touch screen types are ideal for all situations so when purchasing a pos touch monitor be sure to pay attention to where and how it will be utilized.
Click Here to view 7", 8", 9", 10", 12", 15", 18", 24" Xenarc Technologies ruggedized LCD touchscreen monitors that have been integrated into point of sale systems at restaurants, bars, cafe shops and even night clubs and retail stores.
Point of Sale Ruggedized Touchscreen Solutions for Point of Sale System Manufacturers
Xenarc Technologies Corporation is proud to manufacture rugged, heavy duty touch screen displays that are used in many point of sale systems today. Whether as an input POS touchscreens device for order entry or as an information POS displays to consumers, our ruggedized all-weather, waterproof, sunlight readable point of sale LCD touchscreen monitors are custom made to such applications and can come with IP54 splash proof waterproof front bezels or with optional IP67 Full Waterproof point of sale touchscreens available.
For further information on integrating our POS Touch Screen Monitor displays into your Point-of-Sale system, please fill out our Integrator Form at https://www.xenarc.com/integrators.php or for a custom display, please fill out our Custom Displays form at https://www.xenarc.com/custom_monitor.php. Please feel free to contact us at 888.656.6536 or via e-mail at sales@xenarc.com. Wholesale/Bulk pricing available.
Many of our POS industrial-grade touch screen monitor displays feature 5-wire resistive touch panels made of tempered glass, coated with heavy duty ITO film. This adds durability and increases touch sensitivity to insure flawless operation in a variety of environments. Upgraded backlight modules also increase the brightness of the displays and offer an extended POS display touch screen monitor life. The 1040TSH and the 1200TS, as well as the 1500TSH have been used heavily in point of sale cash register applications, and were all built primarily for this purpose particularly with their IP54 spill proof front bezels. We also offer the widest range of inputs into our displays, covering any input device, from composite video to VGA, SDI to Displayport to DVI and HDMI.
Why is a Xenarc Technologies ruggedized LCD Point Of Sale Touchscreen LCD Monitor Solutions a great investment for Your Next Point of Sale Display Integration Project?
• Custom designed for all types of Point of Sale (POS) Systems and Applications
• Built with ruggedized industrial-grade components
• Designed for 24/7/365 operation
• Easy installation and integration with your POS application/system
• High Temperature & Vibration Resistant
• Waterproof and Dust Proof
• Modified or custom monitors, built to your specifications
• No dead pixel guarantee
• 3-Year Warranty
• Designed for 24/7/365 continuous operation; MTBF > 55,000 hours or 6.2 Years
Click Here to compare all 7", 8", 9", 10", 12", 15", 18", 24"Point of Sale POS Rugged LCD Monitors

Point of Sale Systems Engineers and Automators love the ruggedness and the toughness of a Xenarc Monitor especially for critical operations where no down time is allowed or can be risked. Premium Panel Technology by Xenarc Technology for those in critical industries Deliver:
♦ Wider Viewing Angles
♦ Higher Contrast Ratios
♦ Better Color Accuracy
♦ Better Visual Clarity
♦ No Image Distortion
♦ No color Shifting
♦ Improves viewing comfort
♦ Improves overall User Experience
Click Here to compare all 7", 8", 9", 10", 12", 15", 18", 24" Point of Sale POS Rugged LCD Monitors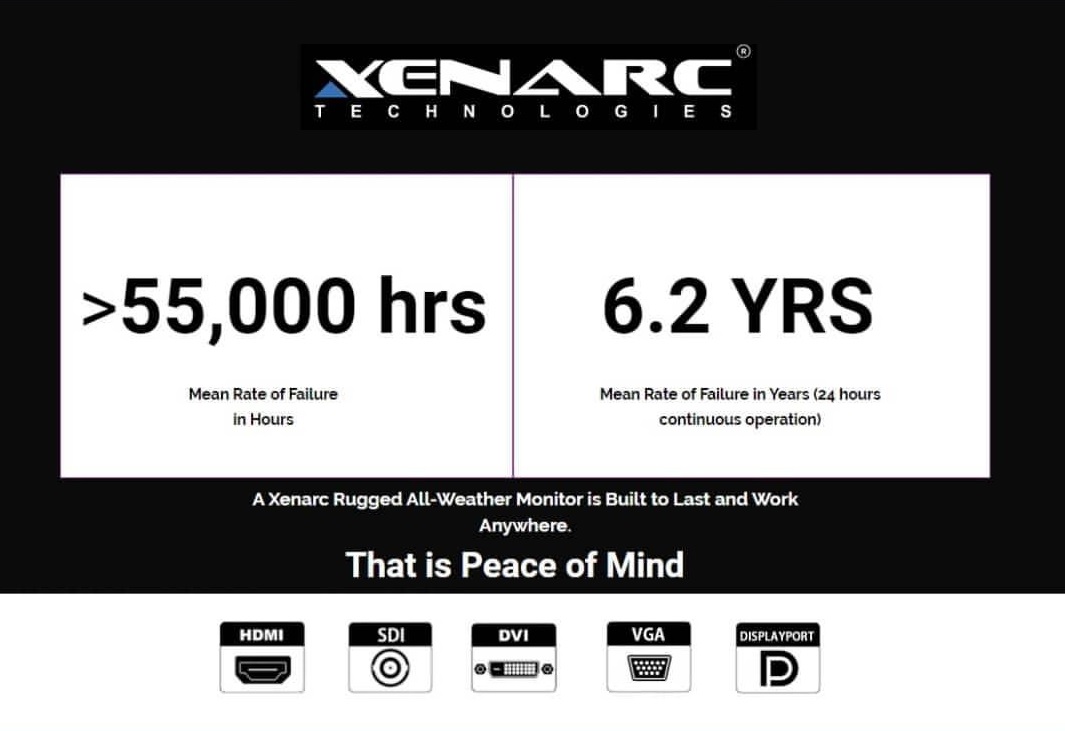 Xenarc Rugged Touchscreen Monitors 7" to 18" are built tough to last. The Mean Time Between Failure (MTBF) for a Xenarc Technologies Rugged Monitor is > 55,000 hours OR 6.2 Years of continuous operation and with the new 3 Year Warranty, a Xenarc Rugged Monitor gives you truly peace of mind.
Past POS Rugged LCD Monitor Integration Projects
System & Point of Sale All-Weather Monitor Integration Customers
Sign Up For Wholesale/Bulk Pricing