Xenarc Technologies is the leading manufacturer and supplier of human machine interface systems and small form factor ruggedized all-weather LCD touchscreen monitors, built tough to last and work anywhere, including in smart factories. Save time and money with a solid investment that is sure to outperform any regular touchscreen monitor. Xenarc Technologies manufactures the most crisp, colorful & high bright small touchscreen monitor solutions that are also called "control panels" or "human machine interfaces."

Industry 4.0 is the subset of the fourth industrial revolution. The fourth industrial revolution encompasses areas which are not normally classified as an industry, such as smart cities, for instance.
Although the terms "industry 4.0" and "fourth industrial revolution" are often used interchangeably, "industry 4.0" factories have machines which are augmented with wireless connectivity, displays (HMI's), and sensors, connected to a system that can visualise the entire production line and make decisions independently.
In essence, Industry 4.0 is the trend towards automation and data exchange in manufacturing on the factory floor, including ruggedized technologies and processes such as cyber-physical systems (CPS), the internet of things (IoT), industrial internet of things (IIoT), cloud computing, cognitive computing and artificial intelligence.
The concept includes:
Smart manufacturing
Smart factory
Lights out (manufacturing) also known as dark factories
Industrial internet of things, also called internet of things for manufacturing
Industry 4.0 fosters what has been called a "smart factory." Within modular structured smart factories, cyber-physical systems monitor physical processes, create a virtual copy of the physical world and make decentralized decisions. Over the Internet of Things, cyber-physical systems communicate and cooperate with each other and with humans (through the use of Human Machine Interfaces such as LCD Touchscreens Manufactured by Xenarc Technologies) in real-time both internally and across organizational services offered and used by participants of the value chain.
Xenarc Technologies has been manufacturing ruggedized small form factor LCD touchscreen monitors in 7", 8", 9", 10", 12", 15", 18", 24" sizes with HDMI, VGA, DVI, SDI and Displayport video inputs and outputs, with ruggedized technologies, that allow our display touchscreens to work anywhere and in the harshest of environments. and work perfecty for smart factories and all of its systems and applications.
Most home or office LCD monitors would not last a day operating in extreme heat or cold temperatures, or in smart factory floors where industrial liquid might spill and hit the HMI touchscreen monitors. Variance such as changes in electricity output, vibration from other machines, dust, constant use and abuse, and many other factors are what Xenarc Technologies' LCD Monitors are built to withstand.
Components of Industry 4.0
"Industry 4.0" is an abstract and complex term consisting of many components when looking closely at current digital trends. To understand how extensive these components are, here are some contributing digital technologies as examples:
Mobile devices (Rugged Tablets)
Internet of Things (IoT) platforms
Location detection technologies
Advanced human-machine interfaces (Xenarc Technologies Ruggedized All-Weather Touchscreen Solutions)
Authentication and fraud detection
3D printing
Smart sensors
Big data analytics and advanced algorithms
Multilevel customer interaction and customer profiling
Augmented reality/ Wearables
Fog, Edge and Cloud computing (Requires Rugged HMIs Manufactured By Xenarc Technologies)
Data visualization and triggered "real-time" training
Mainly these technologies can be summarized into four major components, defining the term "Industry 4.0" or "smart factory":
Cyber-physical systems
IoT
Cloud computing
Cognitive computing
Xenarc Technologies can design, test and manufacture custom human machine interfaces, also known as ruggedized LCD small touchscreen and small monitor ruggedized solutions, that fit your system integration projects and applications. Please contact a Display Engineer at Xenarc Technologies today!
Click here to compare all 7" to 18" rugged LCD Small Touchscreen Monitor Solutions.
Manufacturer of custom smart factory touch screen solutions that integrate anywhere using:
Resistive Touch Technology

Capacitive Touch Technology

High Bright Sunlight Readable Screen Technology

Dust Protective Ruggedized Screens

Anti-Reflective Coating Screens

Waterproof IP67 Technology/Anti Fogging

Optically Bonded Ruggedized All-Weather Technology

Glass Film Glass (GFG) Armored Touch Panel

Operating Voltage Range: DC 9V ~ 36V

Power Consumption: ≤ 20W

Operating Temperature: -4°F ~ 158°F (-20°C ~ 70°C)

Vibration Proof: Operating Random Vibration Test (5-500Hz, 1.0Grms), IEC 60068-2-64 standard

Shock Proof: Operating Shock Test, 10G peak acceleration (11ms duration), IEC 60068-2-27 standard

MTBF (Mean Time Between Failures): > 55,000 Hours or > 6.2 Years of continuous operation
Contact a Touch Screen Display Engineer about your project requirements and we will be happy to guide you which display solutions that will integrate perfectly with your smart factory and its applications.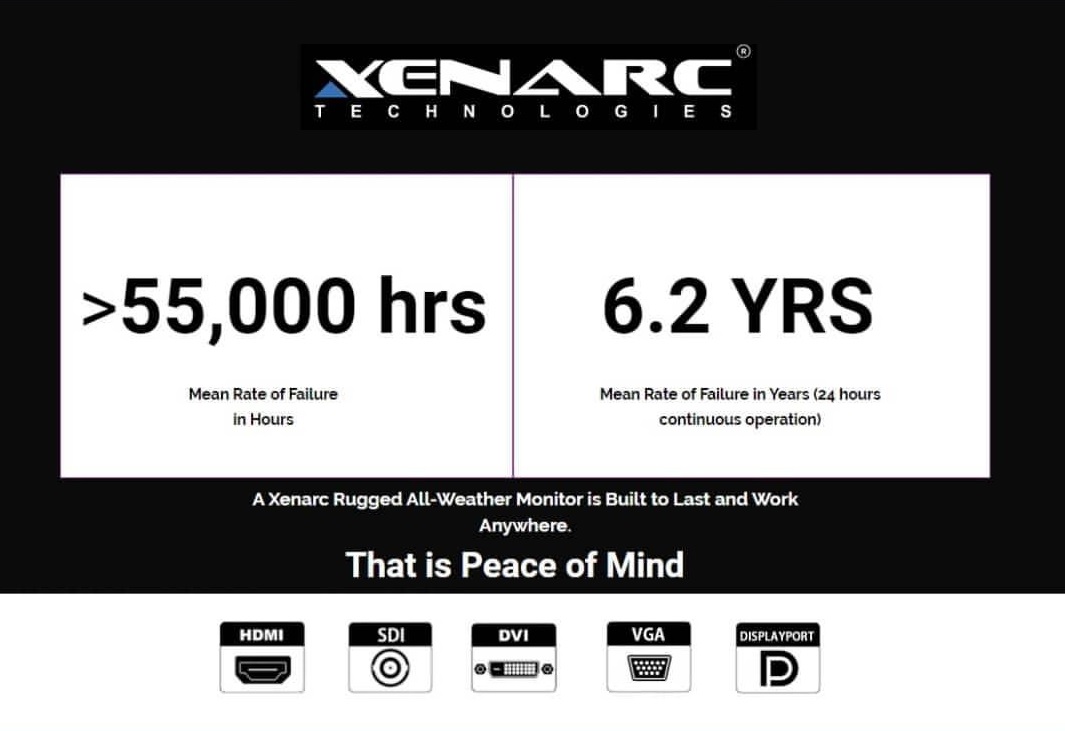 Xenarc rugged small touchscreen monitor solutions 7", 8", 9", 10", 12", 15", 18", 24" are built tough to last. The Mean Time Between Failure (MTBF) for a Xenarc Technologies rugged small monitor is > 55,000 hours OR 6.2 Years of continuous operation and with an industry leading 3 Year Warranty, a Xenarc rugged small monitor gives you true peace of mind.
Xenarc Technologies all-weather rugged 7", 8", 9", 10", 12", 15", 18", 24" small monitor and small touchscreen solutions are perfect Human Machine Interface for Smart Homes, Smart Factories, Smart Offices, Smart Vehicles, Smart Stores, Smart Cities. IIoT, IoT, Industry 4.0 and for low voltage and indoor or outdoor applications.
Sign Up For Wholesale/Bulk Pricing