Following the success of our first IP65 display, the 1029CNH, Xenarc Technologies is proud to announce the release of the 709CNH, a 7" IP65 water resistant and dust resistant certified touchscreen display with an advanced capacitive touchscreen panel.

This rugged all-weather sunlight readable waterproof IP65 7" touchscreen uses the most recent advanced capacitive touch input technology, and is high bright, perfect for viewing under direct sunlight and is rated at an astounding 1,000 NIT of brightness. Encased in a sturdy aluminum casing, this 7" touchscreen monitor display is designed to withstand the elements, both indoor and outdoor, and perform in just about any environment imaginable.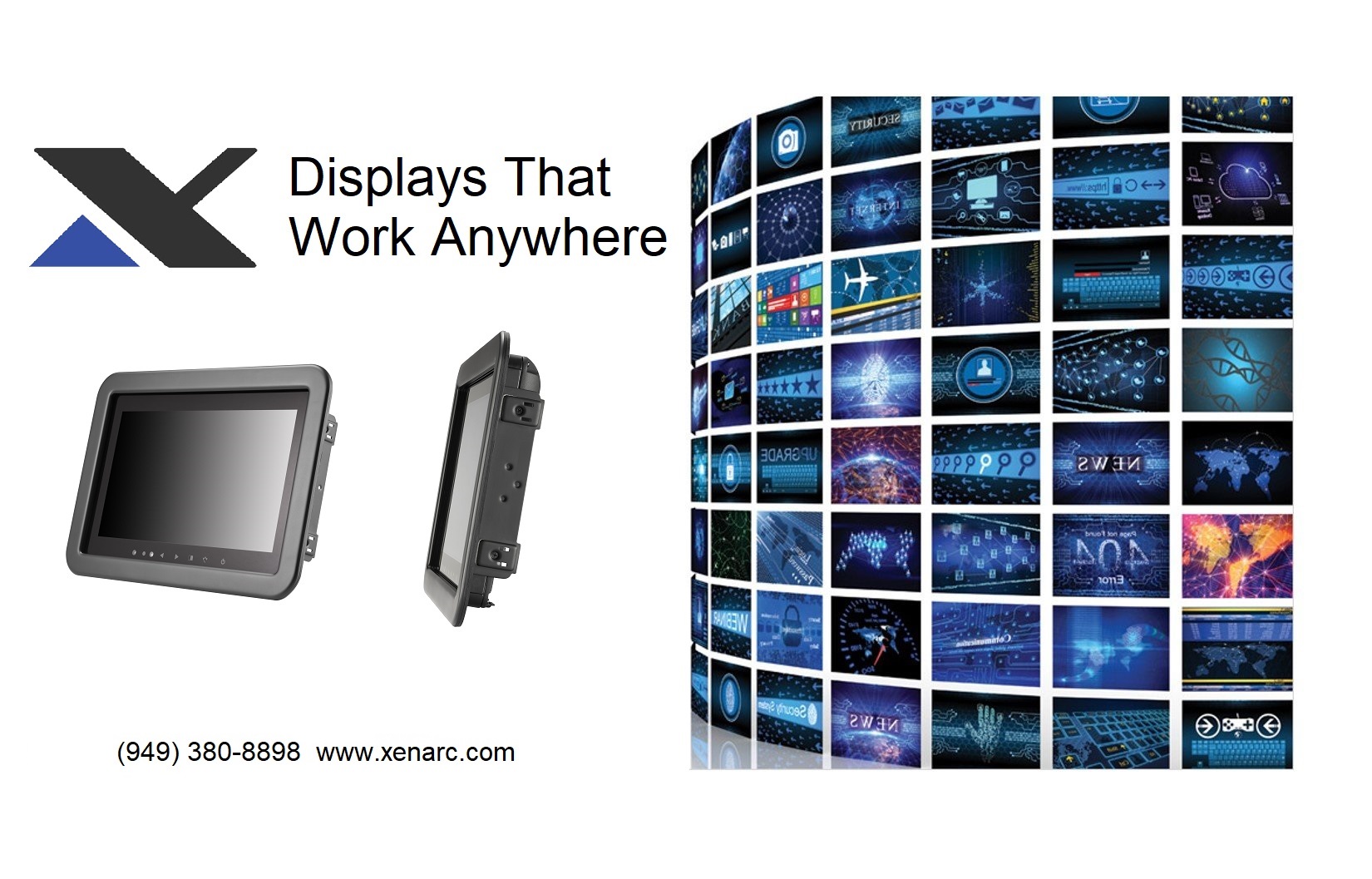 With HDMI, VGA, DVI, and composite video inputs, as well as the USB touch interface, the applications for this 7" HDMI touchscreen are limitless.

Though built and ruggedized for marine vehicles and marine environments, this robust 7" capactitive touchcreen display can be used anywhere where the elements might affect destroy regular touchscreen displays. For further information or to order a sample, please contact us at sales@xenarc.com or at xenarc@xenarc.com.
♦ Supports 10V DC ~ 35V DC
♦ "E" Mark Certified for Automotive use
♦ FCC, CE, E13 Certification
♦ ROHS Compliant
♦ 30 Day No dead Pixel Guarantee
Engineers and Automators love the ruggedness and the toughness of a Xenarc Monitor especially for critical operations where no down time is allowed or can be risked. Premium Panel Technology by Xenarc Technology for those in critical industries Deliver:
♦ Wider Viewing Angles
♦ Higher Contrast Ratios
♦ Better Color Accuracy
♦ Better Visual Clarity
♦ No Image Distortion
♦ No color Shifting
♦ Improves viewing comfort
♦ Improves overall User Experience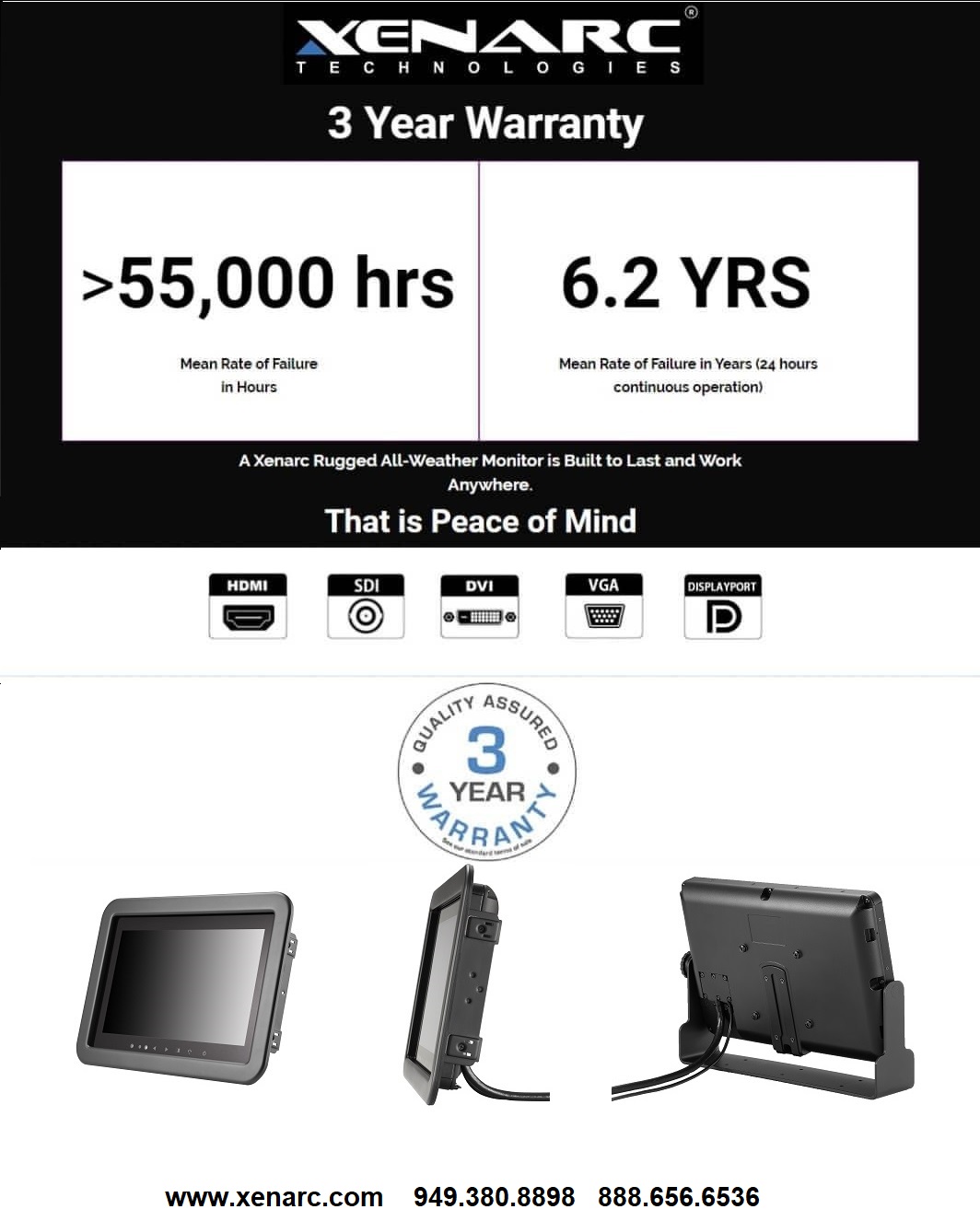 Xenarc Rugged Touchscreen Monitors 7", 8", 9", 10", 12", 15", 18", 24" are built tough to last. The Mean Rate Between Failure (MRBF) for a Xenarc Technologies Rugged Monitor is > 55,000 hours OR 6.2 Years of continuous operation and with the new 3 Year Warranty, a Xenarc Rugged Monitor gives you truly peace of mind.
Xenarc Technologies All-Weather Rugged 7" to 18" LCD Monitors are perfect Human Machine Interface for Smart Homes, Smart Factories, Smart Offices, Smart Vehicles, Smart Stores, Smart Cities. IIoT, IoT, Industry 4.0 and for low voltage and indoor or outdoor applications.
Xenarc Technologies is proud to partner with Resellers, System Integrators, and Institutional Entities. Please click the appropriate link and fill the form to become a partner. We can also work with partners that need touchscreen customization on any of our displays, whether customizing cabling, casing, or internals, we can custom build it to your system requirements. Please feel free to contact us at 888.656.6536 or at 949.380.8898 for further information.