Xenarc Technologies Corporation, as a pioneer in in-vehicle touch screen and small form factor portable LCD Monitor displays, has launched the 1029 and 709 series of wateproof industiral-grade, marine-grade displays built specifically for use in water vessels and water vehicles. Whether for use on a pleasure water craft or on a commercial water vessel, luxury yachts, cruise ships or military amphibian vessels, our high bright, sunlight readabe and water resistant marine touch screen monitor displays have been used in numerous applications over the water including by the Department of the Navy. We have also added a line of optically bonded displays (GSH), for high level viewability in bright and reflective environments.
Xenarc Technologies is one of the first touch screen display monitor manufacturing company to offer water repulsion and dust proof capability to our 7" and 10.1" line-up of industrial-grade touch screen display monitors, and we have further expanded this line with an optically bonded IP67 marine display unit in the 1029GNH.
The 1029 series offers IP65 or IP67 certified outer casings that provide for protection against solid objects and liquids. These marine-grade display outdoor monitors are guaranteed to prevent any amount of dust from entering the device, making it completely dust proof. Further, the marine-grade displays are guaranteed to protect from water projected from a nozzle from having any harmful effect in the 1029CNH and 709CNH, and complete water submersion in the IP67 rated 1029GNH.
Brightness is often a concern when viewing a marine touchscreen out in the elements or on the water, and all of our displays in the 709 and 1029 series come with upgraded backlight modules that achieve up to 1000 nits brightness with our patented anti-reflective panel coating. For further viewability, the 1029GNH is optically bonded, eliminating the air gap between the touch panel and the LCD panel, preventing fogging and reflections from the screens.
We also carry a non-IP rated marine display that is optically bonded in the 702GSH, which would work well in high brightness areas that are shielded from water or dust. These displays are all available with projected capacitive touchscreen panels. For more information, please visit the product page of our 1029CNH, 709CNH, 1029GNH, 702GSH, 1219GNH and 1219GNS.
All of our products come with a 3 year warranty and a no dead pixel guarantee.
Why is a Xenarc Technologies LCD Marine Grade Display Monitor a great investment for Your Next Marine Video Display Integration Project?
• Custom designed for all types of water vehicles
• Built with industrial-grade components
• Designed for 24/7/365 operation
• Easy installation and integration with your marine vehicle
• High Temperature & Vibration Resistant
• Waterproof and Dust Proof
• Modified or custom monitors, built to your specifications
• No dead pixel guarantee
• 3-Year Warranty
• Designed for 24/7/365 continuous operation; MRBF > 55,000 hours or 6.2 Years
For further information on integrating our displays into your marine vehicle, please fill out our Integrator Form at https://www.xenarc.com/integrators.php or for a custom marine-grade display touch screen monitor, please fill out our Custom Displays form at https://www.xenarc.com/custom_monitor.php. Please feel free to contact us at 888.656.6536 or via e-mail at sales@xenarc.com.
Past Marine-Grade Monitor Integration Projects
Engineers and Automators love the ruggedness and the toughness of a Xenarc Monitor especially for critical operations where no down time is allowed or can be risked. Premium Panel Technology by Xenarc Technology for those in critical industries Deliver:
♦ Wider Viewing Angles
♦ Higher Contrast Ratios
♦ Better Color Accuracy
♦ Better Visual Clarity
♦ No Image Distortion
♦ No color Shifting
♦ Improves viewing comfort
♦ Improves overall User Experience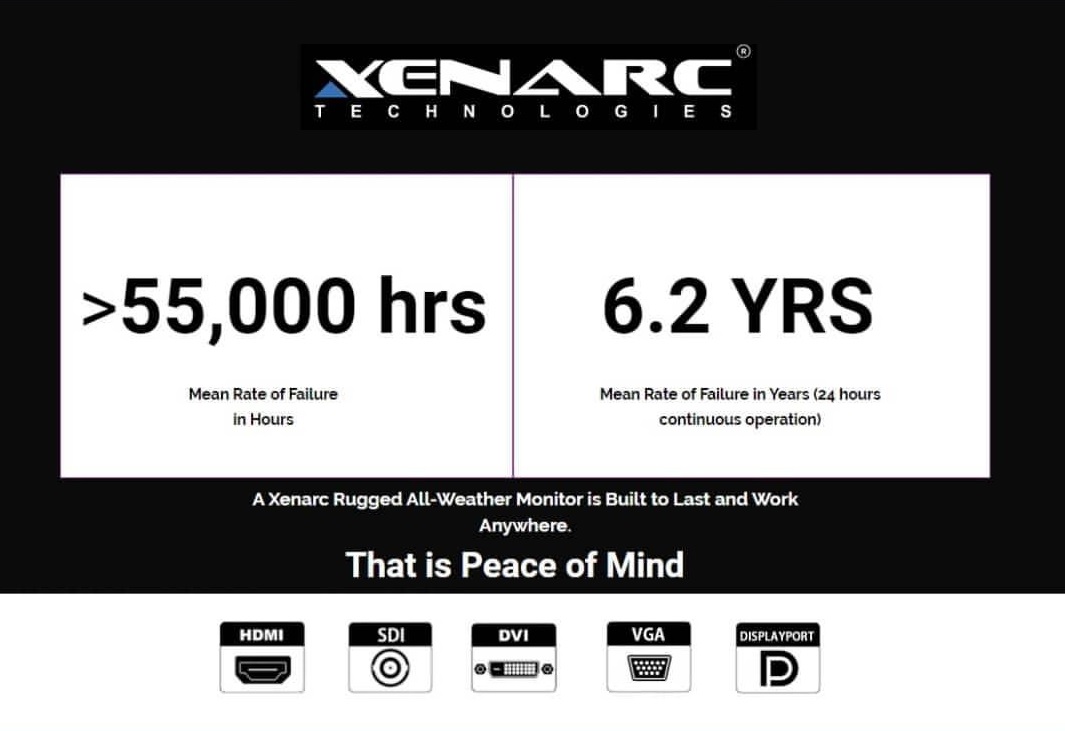 Xenarc Rugged Touchscreen Monitors 7" to 18" are built tough to last. The Mean Rate Between Failure (MRBF) for a Xenarc Technologies Rugged Monitor is > 55,000 hours OR 6.2 Years of continuous operation and with the new 3 Year Warranty, a Xenarc Rugged Monitor gives you truly peace of mind.